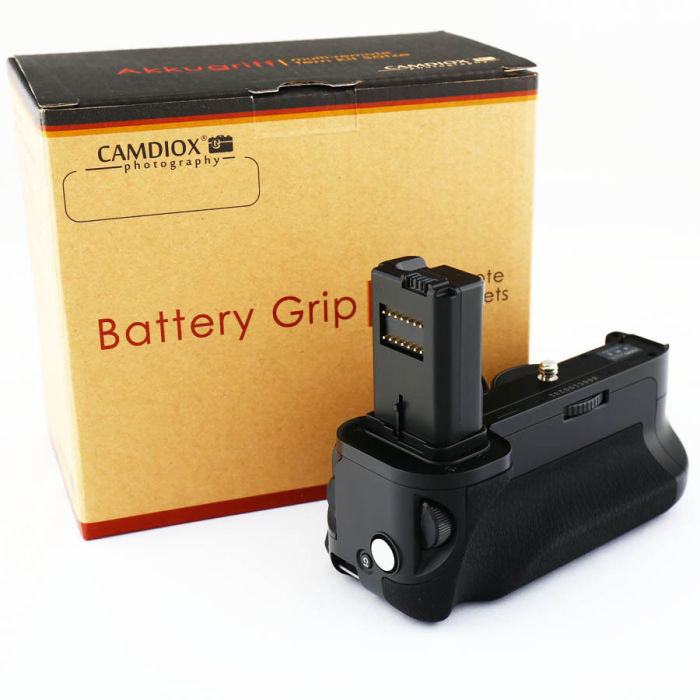 SAR reader Fred (Thanks!) noticed that there is a new battery grip for the A7/r/s sold by Camdiox on eBay (Click here). That's the second non Sony original grip alternative after the also just launched Meike grip on sale on Amazon US (Click here) and eBay (Click here).
This is the Camdiox Product Description
The is made by third party, as same as original Sony VG-C1EM battery grip. It is not from Sony, but almost same as original grip. This Power Grip is both powerful and versatile. Doubling the amount of shots that these SLR cameras can take on a single charge, the Power Grip also offers the flexibility of a secondary shutter release button for vertical shooting. It retains the tripod mounting thread as well, keeping the important ability to stabilize the camera during critical shoots.
This grip for Sony α (Alpha) iLCE-A7 / A7R / A7S completely replaced Sony original VG-C1EM Vertical Grip. This Vertical Grip also can hold two NP-FW50 Lithium batteries – effectively doubling your shooting capacity. It provides improved flexibility, not only helps steady your hand in both vertical and horizontal positions, but also provides a stable platform for shooting portraits, still-life shots and other subjects requiring vertical format.
This battery grip also provides additional controls for key functions and a shutter release that is located right at your fingertips when using the camera in the vertical position – eliminating the need for the contorted balancing act often required accessing the camera controls when shooting vertically.
– Vertical shooting
– Battery capacity doubled
– AF/MF and AEL
– User-defined C1
– Front rear control dial
– Perfect matching with camera body
Features:
1. The best choice for portrait photographs.
2. Provide a vertical grip shutter button, the shutter-lock switch, AF-lock button, AE-lock button, completely supports auto function.
Compatible With
Sony Alpha A7 / A7R / A7S
Package Included
Vertical battery grip for Sony A7 x 1
User Manual x 1
Retail Package x 1