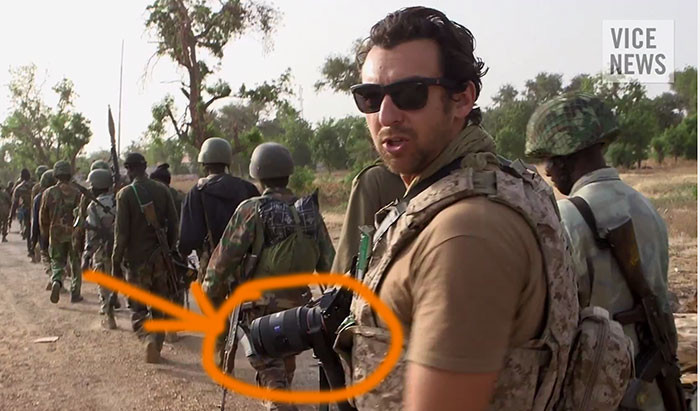 A7s at Amazon, B&H, Adorama, eBay
Vice News shot a series about Boko Haram and used the Sony A7s to record in complete dark scenes. You can see the full video on Youtube (Click here). That kind of reportage would be almost impossible to make without the A7s.
"The video from the "Carnival of Venice 2015" is now public. It was recorded with Sony A7S, Atomos Shogun, Zeiss FE 16-35/4 OSS and Zeiss FE 1.8/55. The wideangle clips shot from tripod show the real potential of this combination. Unfortunately, the handheld portrait shots moving around the masks show the loss of quality due to the lack of stabilization of the A7S and the FE 1.8/55 even after digital stabilization (warp) in post processing. Scenes like that require a glidecam, brushless gimbal and additional OSS for professional demands. Irrespective of these little technical imperfections, this video shows the art and beauty of the masks and the scenery in Venice Carnival. Beside that, the article shows some zoomable images taken out as single frames from the video showing the quality of the 4K recording (still in process..).
YouTube (4K/2160p): https://www.youtube.com/watch?v=y1sTOu1e6wk
Vimeo (Download of the original 4K file for Vimeo members): https://vimeo.com/124041563"
Sony A7s Supercut Review by Stronzvanderploeg:
Overall the Sony A7s an incredibly specced camera especially considering the relatively low price point. If you need low-light or mirrorless full frame, it's definitely the camera for you but just know, you'll have to deal with a lot of workarounds and you'll have to learn and adjust to some of the backwards design decisions.
Mark:
I'm a long time reader of Sony Alpha Rumors (I've been using Sony since the A900), and would like to pass on my recent experiments with combining the A7s with a Microsoft Kinect for a mixture of 2D video and 3D animation. I put together a blog article and some example videos showing how to combine the two devices using DepthKit software, and thought it might be interesting for your readers:
DepthKit with Microsoft Kinect + Sony A7s
http://idezo.ch/depthkit-with-microsoft-kinect-sony-a7s/
DepthKit – NASA Space Sounds Experiment
https://vimeo.com/124230332
idezo Labs: DepthKit with Microsoft Kinect + Sony A7s
https://vimeo.com/124167201
Kay Burn:
"My name is Kay Burn and I shoot photos and video underwater (and aerial work too).  
I recently housed my A7s with a Metabones adapter and the Canon 100mm f2.8 IS L in a Nauticam housing and used a prototype port and focus gear to shoot some macro video in the Lembeh Strait in Indonesia. I thought you might be interested to see how it performs;
https://vimeo.com/124127993
More details are available on the vimeo page itself."
Sony A7s store links:
Sony A7s in USA/CA at Amazon, Adorama, BHphoto, Sony USA, Sony Canada.
Sony A7s in Eu at Sony DE, UK, ES, FR, IT, NL, BE, AT, CH, SE, NO, FI, PL. And Wex UK.
A7s Gariz leather case in Black (Click here), Brown (Click here), Red (Click here) and Orange (Click here).