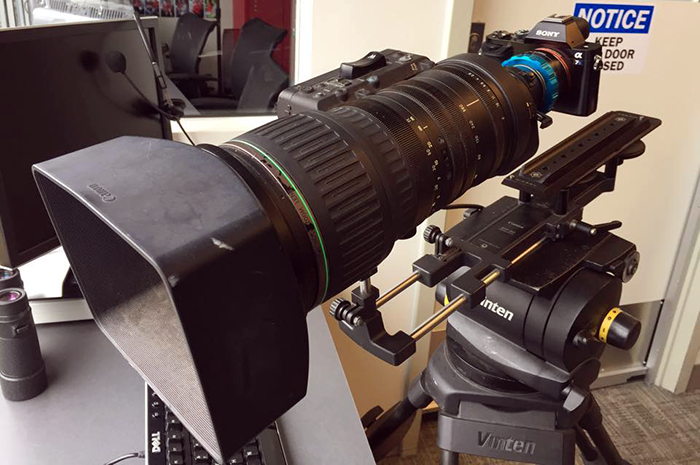 This is a dream combination for those of you that want maximum zoom range with constant and fast f/2.8 aperture! What you see here is a 14-560mm 2.8 Canon HJ40X14B lens worth $82,000 on BHphoto (Click here). SAR reader Jacob Dyke tested it on the Sony A7s:
"A7s mounted to a Canon HJ40-14b via FotodioxPro B4 to NEX adaptor. Its a 2/3″ TV production lens but with the built in 2x extender it covers the APS-C/super35 size in crop mode. This equals a 14-560mm 2.8 with optical image stabilization."
Update: Here is an image sample taken with that combination. APS-C mode lens at 2x full zoom:
Jacob also wrote why he tested that combo:
I work in sports tv production so I wanted to test this adaptor out with the FS700 and just took the photo of the a7s mounted for you guys cuz im sure no one had done it before. I mean the body isnt even secured to the support plate, I would never actually use the set up like this. The FS700 mounts up very well and I did some test which I was really pleased with. Its clearly a video lens, I will post some video soon of the tests. We tested it against a sony 70-400 4-5.6 with a 1.4x via the LEA2 on the FS700, which should equal out to be about 560mm plus the crop of the super35 and the Canon had at least another 50-100mm. I have been trying to wrap my brain around the math to get the conversions correct from going to 2x but then using a bigger sensor and all that but still havent figured it out. Also the lens has to be powered for the Image stabilization to work, fotodiox does make a battery pack to power the lens but I dont have that yet. Again this was not meant to be a fully compatible setup, clearly its limited to a specific use and that will be wildlife filming at 240fps!
Oh right and clearly sports filming as well. Clients that I work for that own an FS700 and a B4 lens can now have a super slowmo camera added to there live show via the SDI output while still being able to take the camera live and use all the hand controls to make it operate like a standard tripod build up.
Full frame mode lens at 1x full zoom:
Thanks Jacob for sharing!
First posted on SonyAlphaForum.
Sony A7s store links:
Sony A7s in USA/CA at Amazon, Adorama, BHphoto, Sony USA, Sony Canada.
Sony A7s in Eu at Sony DE, UK, ES, FR, IT, NL, BE, AT, CH, SE, NO, FI, PL. And Wex UK.
A7s Gariz leather case in Black (Click here), Brown (Click here), Red (Click here) and Orange (Click here).