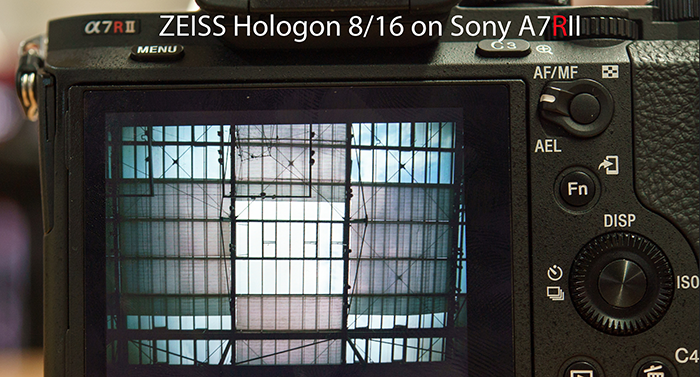 Image courtesy: 3D-Kraft.
There are still no reviews of the new Sony A7rII. Bit strange if you consider the camera is set to ship in a few days on August 5 according to Amazon US (Click here). Sony still doesn't allow to shoot pictures with legacy lenses but 3D-Kraft (Click here) tested the Zeiss Hologon T* 8/16 lens on the A7rII and analyzed the results from the LCD screen. Of course this is not a very scientific way but 3D-Kraft has a good eye when it comes to legacy lens test. So these are his first impressions:
What you see on the display looks very promising for legacy lens collectors! It gives strong indication that the sensor of the new Sony A7RII has no problem with magenta color shift at the borders anymore. It also looked like the borders were less blurred compared to the sample from the A7S.
Well, let's hope his "Impressions" will be confirmed by future more advanced tests!
A7rII preorder list:
In USA: at Amazon, BHphoto, Adorama, SonyStore US, FocusCamera, Uniquephoto.
In Europe at Sony DE, UK, FR, IT, ES, NL, BE, CH, AT, SE, FI, NO, PT. Wex UK.
In Asia at Digitalrev, CameraPro.