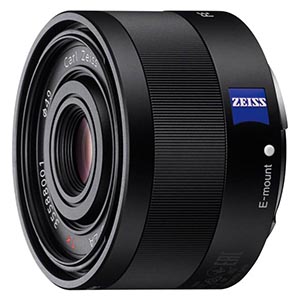 Sony issued the following statement regarding a possible issue with the FE 35mm f/2.8 lens:
Notice to Owners of the Sonnar T* FE 35mm F2.8 ZA Interchangeable Lens
March 31, 2015
Sony has recently become aware that some of the Sonnar T* FE 35mm F2.8 ZA E-Mount lenses sold during and after November 2014 are experiencing an issue when customers attempt to update the software to the new version released on March 4, 2015 (from Ver. 01 to Ver. 02).
Sony is planning to offer repairs for the affected lenses free of charge.
(Please contact the Sony Support Center listed below. Applications for repairs will also be accepted through the Sony website.)
In the case that the software update completes with no trouble, there is no need for repair.
We apologize for any inconvenience this may have caused and thank you for your understanding and cooperation.
【Malfunction Symptoms】
The software update freezes at the screen below when the customer initiates the software update (from Ver. 01 to Ver. 02) that was made available on March 4, 2015.
Update that has frozen   Update that is proceeding normally
If the above symptom is exhibited, please remove the battery from the camera when the update freezes.
The lens can continue to be used with the pre-update Ver. 01 software.
※How to check the software version
1) Power on the camera
2) Select [Menu]→[Setup]→[Ver.]
The software version installed on the lens will be displayed (as below).
【Affected model and production numbers】
SEL35F28Z Sonnar T* FE 35mm F2.8 ZA
α™ (E-Mount) interchangeable lenses
Purchased during or after November 2014
※Affected production numbers
Some, but not all, numbers from
1812043 – 1851015 (AE Version)
1840715 – 1850381 (CN2 Version)
Thanks to the anonymous source who sent this!