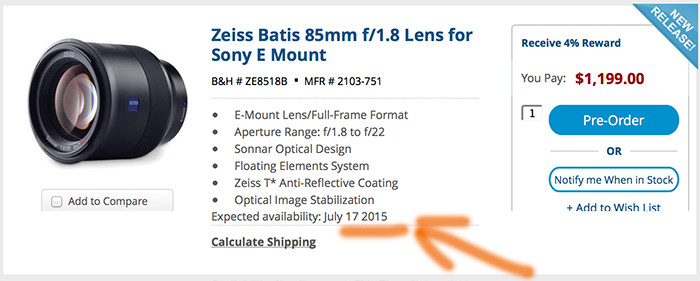 Both new Batis lenses will ship from July 17 according to BHphoto (Click here). And as I told you yesterday the 90mm FE lens is now in Stock at Amazon and BHphoto.
And there is a new test made by Brian Van Der Beek:
25mm Batis: "The lens is quick to focus, and while it may look a tad big on the A7II, it's comfortable to hold and makes shooting a breeze. Bokeh (ahhh the "B" Word!) is actually not that shallow because of the wideness of the focal length, but you get some nice shallow depth of field when the subject is close to the camera. What can I say? I'm sold!"

85mm Batis: "It compresses facial features nicely and gives a nice fall off to the background. The Batis 85mm f1.8 has all the hallmarks of a great portrait lens. I've always preferred the f1.8 versions of 85mm lenses as the 1.4 versions tend to be too shallow to be of much use. The 1.8/85 is fast to focus and easy to work with."
Preorder links:
Zeiss Batis 85mm f/1.8 lens in US at Adorama, Bhphoto. In Eu at Amazon DE, WexUK. In Asia at Digitalrev.
Zeiss Batis 25mm f/2.0 lens at Adorama, Bhphoto. In EU at Amazon DE, WexUK. In Asia at Digitalrev.
In Europe and Asia the Loxias can be found in Stock via eBay sellers (Click here) and Digitalrev (Click here).