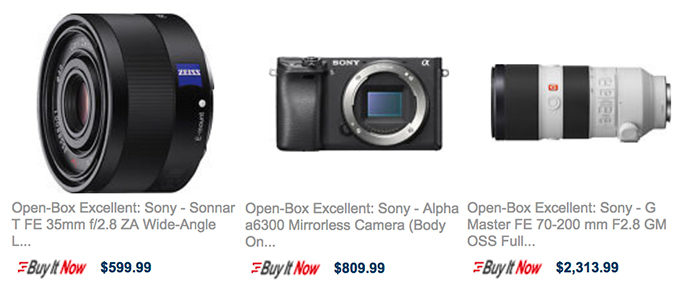 BestBuy listed those new Open Box deals on their eBay page (Click here). UPDATE: The 70-200mm GM lens is now sold out
New deals:
The new Voigtlander 65mm macro lens is in Stock for the first time in USA via BHphoto (Click here). It will be in Stock the next few days at Amazon and Adorama too.
New 16-35mm GM is shipping too at Bhphoto, Adorama, BestBuy and Amazon
You get a $50 discount on the new Rokinon 35mm FE lens if you use the coupon code "C117722270" on checkout at BuyDig (Click here).
The new Sony FE 100-400mm GM lens is now shipping out from all US store: BHphoto, Amazon, Adorama, BestBuy.
J.B. announced the new Grip-Case Pro for Sony A9 (here on Amazon) and A7II Series Bodies (here on Amazon).
Grey imported Sony A7rII sells for $2,199 only at NYC Department store on eBay.