You are browsing the archive for deals Archives - Page 365 of 367 - sonyalpharumors.
Click on those links to visit the Sony NEX product page:
Adorama
RITZ camera (preorder!)

BHphoto (not available for preorder and no price-indications)
Amazon Deutschland

Parkcameras (UK)
Cameraworld (UK)
The Sony Zeiss 16-35mm lens just got a $150.00 rebate. Click here to visit the product page on Amazon US
, Adorama or BHphoto.
The same rebate is NOT available in Europe :(
In Amazon Deutschland
you still have to pay 1.555,00 Euro :(
Check out the review on photozone if you want to know how well the lens performs!
The new Adobe CS5 suite is now shipping! On photoshopuser.com/cs5 you can see a very well done list of the new features.
USA:
Adobe CS5 suite on Adobe US
/ Amazon
/ BHphoto / Amazon Canada
Europe:
Direct links to the pre-order page on Adobe UK
/ Adobe Deutschland
/ Adobe France
/ Amazon Deutschland
/ Amazon UK
/ Amazon France
Asia:
Amazon Japan
Via 1001noisycamera we just found that deal: Sony Alpha A900 for 2,599 at amazon
!
Anyway if you want to spend less your choice may be the Sony A850 (for 1,999 on amazon)
In two days only we saw a price drop on five! Sony APS-C lenses. I don't know if that is a sign for something new coming from Sony. Could be also a normal aggressive Sony price strategy!
Click on the link or picture to visit the product page: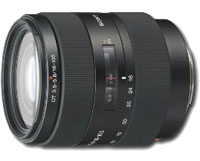 Sony 16-105mm f/3.5-5.6 Lens
. New price $499.00 (Previous $599.00)

Sony DT 18-200mm f/3.5-6.3 Lens
. New price $429.00 (Previous $529.00)

Sony 75-300mm f/4.5-5.6 Lens
. New price $199.00 (Previous $249.00)

Sony A500(Body only)
. New price $699 (Previous $749.00)

Sony 50mm f/1.8
. New price $124 (Previous $149.00)
Sony 30mm f/2.8 Lens
. New price $175 (Previous $199.00)
I noticed that amazon US just dropped the price on few items. Click on the link to visit the amazon product page:
Sony 30mm f/2.8 Lens -> now $175