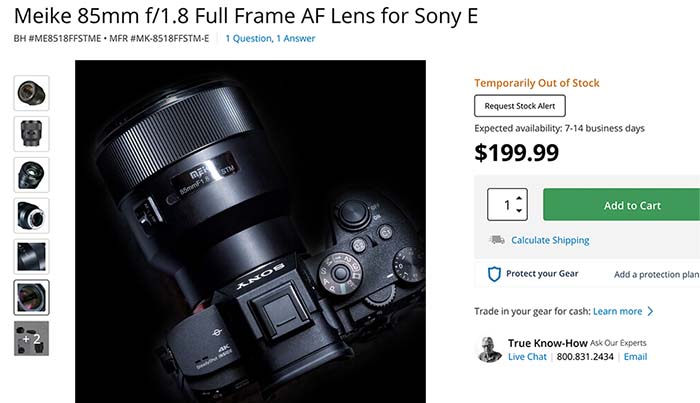 The new lens is available at BHphoto, Amazon, Amazon DE, Amazon UK.
Opticallimits tested the lens and concluded:
Unsurprisingly, a $200 lens can't be perfect and this has to set the context in the discussions. In terms of the more formal characteristics, the Meike AF 85mm f/1.8 STM does a surprisingly good job actually. The image sharpness is available where it counts the most – near the image center. At large aperture settings, the corners aren't hot but you probably don't require superb corners at f/1.8 anyway. The somewhat reduced contrast may also be beneficial for portrait photography. Conversely, the lens is very sharp around f/5.6 where it can almost compete with the big boys. Image distortions are pretty low and both CAs and vignetting are also well controlled. A strength of the lens is the quality of the bokeh which is very smooth in the image background. Out-of-focus highlights are also pleasingly rendered. This is probably a positive effect of the old-school optical design. The same old-school design has also a negative effect with respect to the rather extreme bokeh fringing (LoCAs) f/1.8 and f/2.2, though. The fringing can be a spoiler in high-contrast scenes.
The construction of the Meike lens is fairly decent but don't expect the tank-like qualities that we have seen from Meike's manual focus lenses recently. The lens body is made of average-quality plastic based on a metal mount. The broad, plastic focus ring operates smoothly but you can feel some cost-cutting here as well. An exciting aspect of the lens is certainly its AF motor – something that we haven't seen often from Chinese players until recently. It does its job but don't expect it to be fast. Object tracking isn't really an option and it isn't noiseless either. The aperture can be controlled via the camera and it does also produce EXIF data. An auto-correction profile is not provided but given the decent results, this isn't really needed.
There are, of course, better 85mm lenses than the Meike AF 85mm f/1.8 STM out there. However, as mentioned, everything is about context. Regardless of the mentioned flaws, the lens is still a steal at this price point and if you are on a tight budget, it could be a viable option.