Indonesian agency leaks possible Sony Full Frame E-mount camera?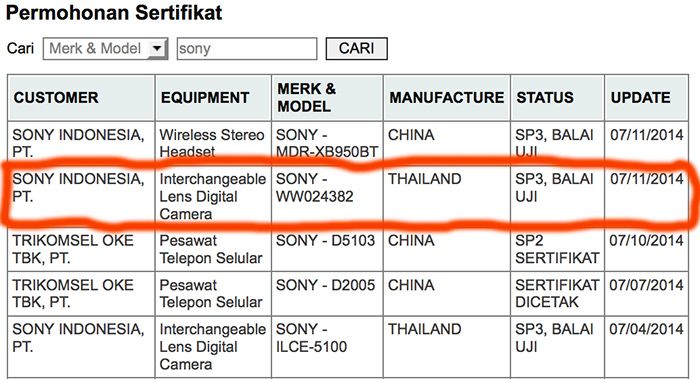 The Indonesian agency Postel registered the name of a new Sony interchangeable camera having the code "WW024382". Last time I saw that kind of code the A7s had been announced the 3-4 weeks after. As you see on the screenshot APS-C E-mount cameras are registered with their real name (ILCE-5100 which is also going to be announced soon). I have no reliable info yet about a new FE camera so don't get too excited for now. Anyway, I hope this will be Sony's high-end A9 :)
—
Message to sources: You can send me more info anonymously by using the contact form you see on the very right of your browser. You can also contact me directly at sonyalpharumors@gmail.com.
For readers: Subscribe the RSS feed (Click here) and Twitter (Click here) stream and the Facebook fan page (Click here) in order to not miss any news!
—
Reminder (SR = Sonyrumor):
SR1=probably fake rumor
SR2=rumor from unknown sources
SR3=50% chance it is correct
SR4=rumor from known sources
SR5=almost certainly correct!