New Laowa Argus 35mm f/0.95 FF reviewed by Dustin Abbott and Phillip Reeve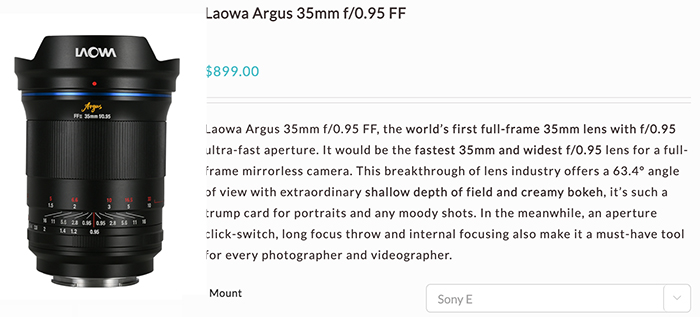 As you know since last week you can preorder the world's fastest 35mm f/0,95 lens at Venuslens.net (worldwide shipment). First 100 purchases in the webstore will get a free focus gear belt.
Phillip Reeve tested the new lens and concluded:
So far f/0.95 fullframe lenses have been special purpose lenses for shallow depth of field photography with plenty of compromises, too many compromises for myself to consider using them on an everyday basis.

For the Laowa 35mm 0.95 this is not the case and this is what really makes it stand out among the other f/0.95 lenses. While it is being surpassed in several categories (e.g. sharpness, flare resistance, coma and CA correction) by slower and often more expensive lenses, the package as a whole ended up being a fully usable lens that can be used for a wide variety of applications and not just shallow depth of field portraiture.
It therefore behaves similar to the Voigtlander f/1.2 lenses while being more than half a stop faster – quite the achievement.

I am sounding like a broken record by now, but it is really time for Laowa to add electronic contacts to their E-mount lenses though, especially considering not only Samyang but also Yongnuo and Viltrox manage to do that.

This 35mm 0.95 is Laowa's first attempt at designing a fast portrait lens with an "ordinary" focal length where there is a lot of competition in the market already. Before using the lens I was afraid making it f/0.95 might have been too ambitious, but this is not the case at all. If I was to pick a fast manual 35mm lens for an E-mount camera today this would clearly be it.
And Dustin Abbott also posted his full review: