New Sony A1 real life hands-on report with images!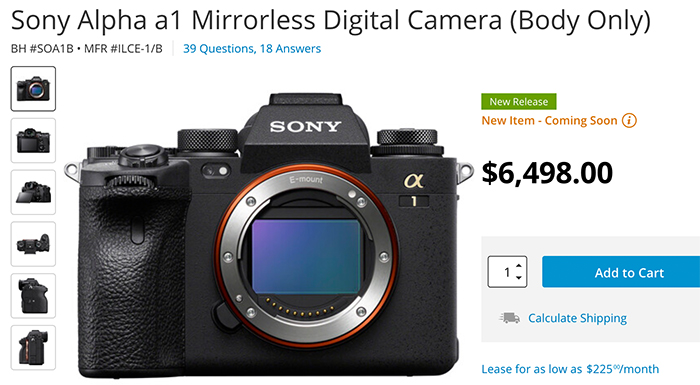 Preorders:
Sony A1 at BHphoto. Adorama. Amazon. Focuscamera.
Sony XPeria 5G PRO at BHphoto. Adorama. Amazon.
Sony A1 in Europe at FotoErhardt DE. Calumet DE. Fotokoch DE. Park UK. WexUK.
The Japanese website digitalcamera.jp had a chance to talk with Sony about the new Sony A1. Some key findings:
– For the first time Sony officially says this new Alpha is a "Flagship" model.
– The goal was to make a camera that can do "everything" of the cameras of the line below.
– for the first time the BIONZ XR itself has a built-in LSI
– Some older lenses autofocus may can't cope with the 30fps AF-C shooting (they may shoot at 15/20fps instead of 30fps)
– third party lenses will do 15fps
Their full google translated text:
Sony has not called it a flagship (any model of α), but this time "α1" is our first flagship.
A model that can do everything.
A little less than 900,000 yen including tax and 800,000 yen excluding tax.
A model that can include everything.
The image sensor uses a newly developed CMOS sensor with a built-in memory of 50.1 mega.
The image processing engine is two "BIONZ XR" that I started using from "7S III". 8 times more processing than before.
In "α9", front-end LSI and BIONZ were used in combination.
This time, the BIONZ XR itself has a built-in LSI. Two BIONZs cover Type A and Type B.
AF tracking. 4K120. AF calculation 120 times per second.
The GUI realized with "α7S III" is also realized with the new BIONZ.
RAW and JPEG recording for each card is also achieved with the new BIONZ XR.
30 frames per second for still images. No buffer clogging in CFexpress Type A.
The continuous shooting speed can also be changed.
Some AF-C lenses cannot catch up. The main FE lens supports 30 frames, but the one with a large lens drive system may have up to 20 frames or 15 frames.
The lenses of other companies are full of 15 frames due to the actuator. Please use a genuine lens.
AF is 120 times per second. No blackout. It is also effective for AEs with many changes in brightness. Follows with a delay of 0.033 seconds at the fastest.
Flash tuning is possible with an electronic shutter. You can shoot with a silent flash or while chasing.
Synchronize in 1/400 seconds with a mechanical shutter. Newly developed shutter unit. Equipped with an electromagnetic drive actuator as well as a spring. Achieves high speed with spring and electronic drive.
Dynamic range is 15 stops. Sensitivity is ISO 32000 for regular use and 102400 for extended use.
APS-C with 21 million pixels.
Anti-distortion is 1.5 times that of α9. Since the reading is fast and the processing is good, it does not distort even with an electronic shutter.
Flickerless is possible with an electronic shutter. Also equipped with high-frequency flickerless function of α9II.
Creative style becomes creative look. Adjustable in 9 steps. Even if you take a JPEG and put it out, you can make your own favorite picture. For the function that can be cut out with JPEG.
16 pixel shift multis are about 200 million pixels.
For RAW, lossless compressed RAW. For 50-80% capacity.
Supports 10bit HEIF.
Even with 50 million pixels, the phase difference is 759 points. Coverage rate is 92%.
Equipped with bird pupil recognition. However, pelicans are hard.
8K video is supported. You can make a beautiful 8K30P by oversampling. Also 4K120P.
S-Log shooting. Equipped with S-CINE TONE. For the same quality as for movies.
Image stabilization is also electronic image stabilization. Active mode electronic image stabilization is possible.
Fast hybrid AF. At 8K, the manual is impossible. 8K with AF focused neatly.
Even with 8K30P, it is possible to shoot for about 30 minutes with heat dissipation characteristics.
The viewfinder has 9.44 million dots. The refresh rate is 240fps.
WiFi is twice as much as before. Compatible with USB 3.2. Equipped with 1000BASE-T.
Simultaneous announcement of Xperia PRO. Smartphones that professional photographers and creators want to use.
HDMI input is possible. You can see what you took with α with Xperia and fly with 5G. 4K compatible with BT2020.
And these are Patrick Murphy-Race thoughts on the new A1: