New Sony A7rIII can take around 63 Megapixel (Bayer equivalent) pictures in "Pixel Shift Multi Shooting" modus?

New A7rIII preorders:
Sony A7rIII at Amazon, Bhphoto, Adorama, BuyDig, FocusCamera, Calumet DE, Wex UK. Photo-Porst.de. Sony Netherland. Sony Australia. Sony Japan.
Sony 24-105mm at Amazon, Bhphoto, Adorama, BuyDig, FocusCamera, Calumet DE, Wex UK.
–
The one new Key Feature that certainly stands out on the new A7rIII is the "Pixel Shift Multi Shooting". It combines 4 shots (every shot has a 1 pixel shift). The total pixel number is 169.9MP. After that you have to merge these pictures on a dedicated Sony computer  software and the result is a final 42MP pixel image where every pixel contains the full RGB color information.
This mode allows for higher resolution, color accuracy and less moire issues. The Sony China presentation claims the final image resolution compares to an image taken with a 99 Megapixel Bayer sensor. I hope to be able to confirm this via other Sony sources because I haven't seen this mentioned elsewhere.
I tend to believe the number given by Diglloyd is more realistic:
"Resolution increases substantially but I see this as subjective more than objective; it depends on the subject matter, color, etc. I would rate a 42-megapixel sensor as being at least as good as a ~63 megapixel sensor. It's not just an increase in detail, but a loss of spurious detail, elimination of aliasing, a gain in textural detail, etc. Subjectively, it is a huge step up, like skipping 3 generations of cameras."
I hope we can see some tests soon to determine what's the quality of those multi shooting images.
In the meantime check out these videos and images that do explain how the Pixel Shift mode works: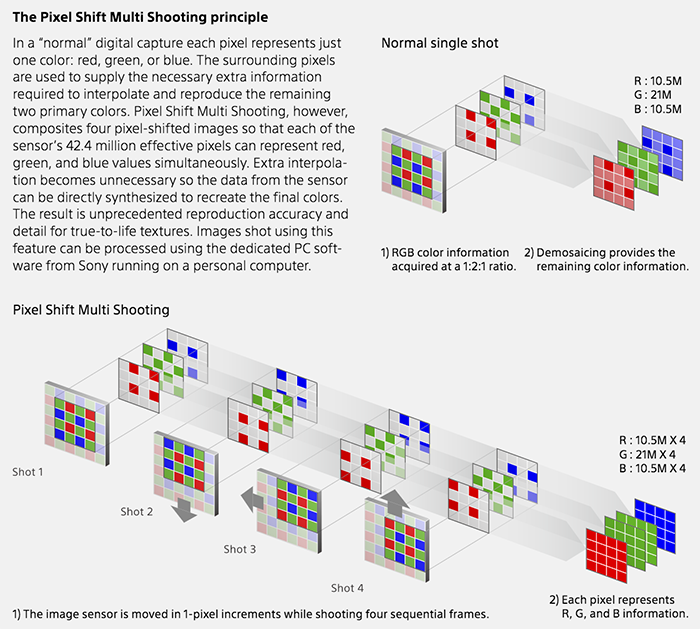 Join the A7rIII facebook group to discuss the camera features and tests!