New Speedmaster 35mm f/0.95 II Silver lens announced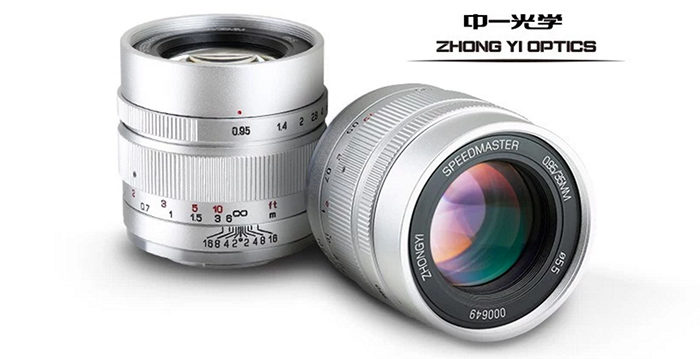 [/shoplink]
Zhong Yi announced a new Silver version of their Speedmaster 35mm f/0.95 APS-C E-mount lens. The new lens is available for order one Bay and you can have it in [shoplink 51169 ebay]Black (Click here)[/shoplink] or [shoplink 51168 ebay]Silver (Click here)[/shoplink].
Image samples can be found on [shoplink 51169 ebay]that eBay page[/shoplink].
Press text:
Zhongyi Optics (ZY Optics) has released an improved version of their first f/0.95 lens, Zhongyi Mitakon Speedmaster 35mm f/0.95 Mark II. The mark II verison features a drastic improvement of sharpness, better control of chromatic abberations and much compact size. The new version comes with a Fuji X / Sony E / EOS-M mount and is able to cover the image circle of APS-C sized sensors.
Zhongyi Mitakon Speedmaster 35mm f/0.95 Mark II is a ultra-fast prime lens which provides a 35mm-equivalent focal length of around 53mm in APS-C cameras. A maximum aperture of f/0.95 makes it extremely convenient to shoot at a low light conditions without flash. The new optical design incorporates a 11 elements in 8 groups structure, including 1pc of Extra-low disperson elements, 2 pcs of Extra-high Refractive Index elements and 3pcs of High Refractive Index elements. This structure effectively improved the image resolution by 30% compared to the previous version from corners to corners. This also controls the chromatic abberations very well and deliver excellent image sharpness even at f/0.95.
The new Speedmaster 35mm f/0.95 is light and compact. The total weight is reduced from 680g to 460g, making it an ideal companion for the compact mirrorless cameras. Manual focus design and a click-less, silent aperture ring promote smooth handling and are especially well-suited to video applications. The lens is built in metallic enclosure with additional protective process and finest finishing, which gives extra durability and aesthetic.
Package Includes
1 x Zhongyi Mitakon Speedmaster 35mm f/0.95 (II) Sony E mount
Leather Box
Front and Rear Lens Caps
Instructions Manual
Specifications
Zhongyi Mitakon Speedmaster 35mm f/0.95 (II)

Lens type

Manual lens

Max Format size

APS-C

Focal length

35mm

Lens mount

Sony E / Fuji X / EOS-M

Aperture

Maximum aperture

F0.95

Minimum aperture

F16

Aperture ring

Yes

Number of diaphragm blades

9

Optics

Elements

11

Groups

8

Focus

Minimum focus

0.35m

Distance scale

Yes

Angle of View

43.5 degrees (APS-C)

Physical

Weight

460g

Diameter

63 mm

Length

60 mm

Colour

Black

Zoom method

Rotary

Filter thread

55 mm