News: Sony Electronics Announces New Camera Software Development Kit (SDK) for Third Party Developers and Integrators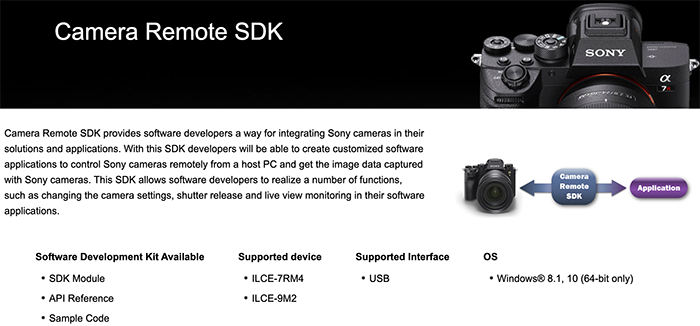 Sony is announcing the release of a new software tool that will enable corporations, researchers and other business users to automate the functionality of many Sony cameras. This new SDK will allow developers to make custom solutions to control and review imagers remotely, opening up new creative possibilities for integrating Sony cameras in news gathering, scientific research, entertainment creation, and more.
Press release:
Sony Electronics Announces New Camera Software Development Kit (SDK) for Third Party Developers and Integrators
New SDK Enables Remote Control of Sony Cameras for a Variety of Professional and Commercial Applications
SAN DIEGO – Feb 11, 2020 – Sony today has announced the release of a new software development kit (SDK) that enables third party developers and integrators to access control of Sony cameras.
Sony, the industry leader in both full-frame and mirrorless cameras, is releasing the SDK based on extensive interest in their camera lineup from commercial customers.
"The customer's voice is absolutely critical to all aspects of our business," said Neal Manowitz, Deputy President of Sony Imaging Products and Solutions Americas. "After receiving many requests, we're excited to finally be able to open our platform in this manner. Companies will now be able to custom develop applications to control our cameras remotely, allowing them to take full advantage of the many innovations in Sony's lineup including industry-leading autofocus, shooting speeds and much more. Ultimately, this gives professional clients the ability to create new and different imaging experiences unlike anything that's been done before." SAR
With the new SDK, key camera controls and still image data captured will be available for remote access, including adjustment of camera settings, shutter release and live view monitoring. These control capabilities are appealing to the workflow of a wide variety of industries including security, entertainment and many others.
One of the companies that have a high expectation of Sony's SDK is Telemetrics Inc., a company that specializes in robotics and camera control systems, selling complete packages including a weather resistant housing unit on a remotely controlled pan/tilt head compatible with select Sony full-frame mirrorless cameras. Telemetrics, Inc. sells to a wide variety of clients including broadcast, production, sports and education companies.
"Combining our expertise in robotics and camera control with the impressive capabilities of Sony's Alpha camera technology will allow us to create some especially unique solutions for capturing live sports entertainment, which include the newly introduced PT-CP-S5 Compact Pan/Tilt Head and the WP-HOU-A9 Camera Housing unit," said Michael Cuomo, Vice President of Telemetrics, Inc. "We've been thrilled with the results and are extremely excited at the potential for future integration with our systems."
Initially, the Camera Remote SDK will support Alpha 7R IV and Alpha 9 II bodies, with plans to gradually expand the lineup of supported cameras hereafter. The Camera Remote SDK is available now and can be downloaded from here.
The current Camera Remote API's provision will be closed following this new release of the new Camera Remote SDK and its support will be terminated.