Finally! Plenty of A77 body only cameras are in Stock at Amazon (Click here) and BHphoto (Click here).

Photographyblog (Click here) posted a new full Sony NEX-5n review: "It may not be the smallest (at least with a lens attached) or sexiest compact system camera on the market, but a winning combination of excellent image quality even in low-light, a refined and customisable interface, and fast and responsive operation does make the Sony NEX-5N one of our current favourites. Highly Recommended!"
While I fully agree with Photographyblog when they say that the camera has an excellent image quality I do not agree with the lack of sexiness! I use the NEX-5n with the also highly recommended Voigtlaender Nokton 35mm f/1.4 lens (Click here to see them on eBay). It's a terrific sexy combination! I am currently to busy to post a review now but as soon as I am back from my NYC work trip I will shows you a first preview of my NEX-5n+Nokton kit. Maybe we should do a sexiness contest to see which lens looks better on the NEX :) Do you have some ideas?
P.S.: You need an M-mount to NEX adapter (Click here to see the list on eBay) to use the Voigtlaender Nokton 35mm lens!
The Sony NEX-5n is in Stock at Amazon, B&H, Adorama, eBay. And there is also that nice (a bit expensive) NEX-5n viewfinder Amazon, B&H, Adorama, eBay.
And the new NEX lenses can be (pre-)ordered here:
Zeiss 24mm f/1.8 Amazon, B&H, Adorama, eBay.
Sony 50mm f/1.8 Amazon, B&H, Adorama, eBay.
Sony 55-210mm Amazon, B&H, Adorama, eBay.
The Japanese blog Egami (Click here) found a new Sony patent about a new sensor with high dynamic range. It's actually a "Photochromic Image Sensor". The google translation tool as usual makes a terrible job and it's not easy to understand how the new technology works. For what I understood the new sensor has a much increased dynamic range in both shadow and highlight!
Just a reminder. Sony is patenting many "cool" sensor technologies. Like foveon sensors or these photochromic sensors. Can't wait to see them in use in a real camera. By the way Sony, why not make a modular camera where we can sue a ll these different sensors?
More info about Photochromism on Wikipedia (Click here).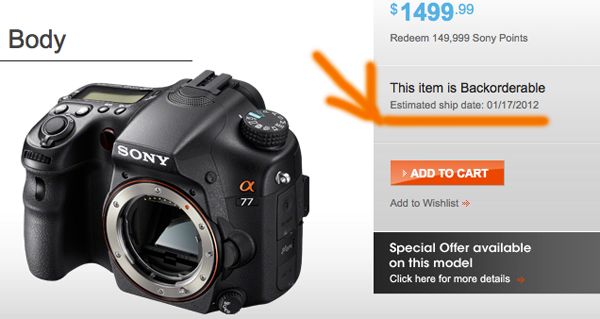 A couple of days ago I told you that soon the A77 stocks would be gone. And because of the Thai flood new stocks of A77 will be available next year only. But I didn't think that It would be THAT soon! Sony Canada already has no more A77 left. As you can see on their website (Click here) the new estimated ship date is January 17!
One reason more to buy it now if you want the camera. Check the availability status at Amazon, B&H, Adorama, eBay.

Luminous Landscape (Click here) posted a full Sony DT 16–50mm f/2.8 and LA-EA2 adapter review: "As with all new Sony Translucent mirror equipped cameras there is a light loss of between one third and one half stop. Some people are concerned about this. Well, in this day of noiseless ISO 800 cameras, and decent image quality up to ISO 6400, if a third of a stop concerns you then you definitely shouldn't buy an EA2 or any Sony camera using this technology. On the other hand, if you are a sensible photographer who is more concerned with practicing their art and craft then the loss of less than 1/2 EV shouldn't be of concern."
Soundimageplus (Click here) made a Sony NEX-C3 and 5n High ISO noise test: "However the NEX-5n is definitely "cleaner". I thought at first that it had smudged more detail, but if you look at the middle word on the headstock, the 5n has actually recorded more detail."
You can now download the new Image Data Converter v4 (Click here to download). DK from Photoclubalpha (Click here) explains you the changes.
Dear readers!
While you are reading this post I am sitting into the airplane flying from Munich to New York. I will have an extremely important and busy week in NYC full of meetings where I will show my latest project I am working for three years now. But I am not here to talk about my private project. What matters is that you may will excuse me if I will be less "present" on SonyAlphaRumors this week. I will do my best to keep an eye on the big news and rumors. But if for some reason I will disappear for a while you now know why it is so.
Now let's hope the snowstorm over the east coast will be over before I will arrive! :(
Kind regards,
Andrea
P.S.: I scheduled some news for the next hours. It will not be to boring here :)

For the first time Amazon has the A77 in Stock (Click here to get it now!). I don't know how long it will be available.
UPDATE: The A77 with kit lens is now in Stock at BHphoto (Click here). And SOLD OUT at Amazon.