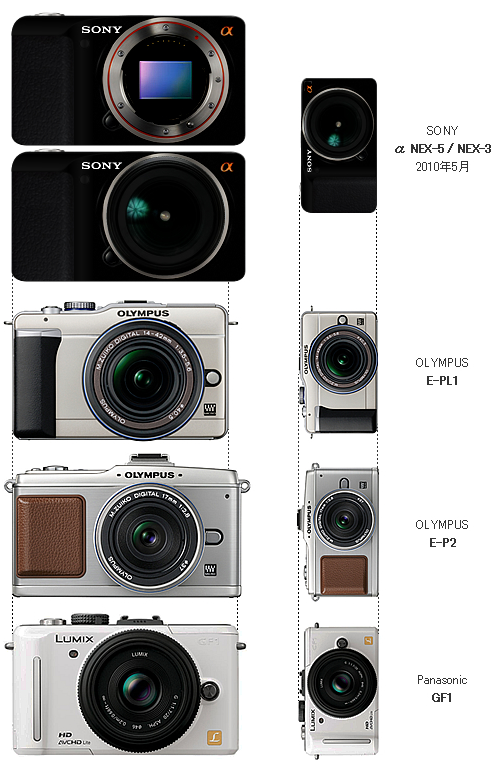 blog.livedoor.jp compared the size between the NEX and the GF1
/ E-PL1
/ E-P2
cameras!
Anyway keep in mind that the NEX images are not real images. But this guys are usually good in "recreating" the camera design based on leaks and rumors. Well done!
source: blog.livedoor.jp
The Sony Zeiss 16-35mm lens just got a $150.00 rebate. Click here to visit the product page on Amazon US
, Adorama or BHphoto.
The same rebate is NOT available in Europe :(
In Amazon Deutschland
you still have to pay 1.555,00 Euro :(
Check out the review on photozone if you want to know how well the lens performs!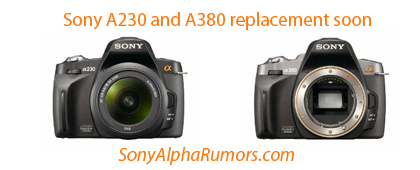 According to many different sources Sony is not only ready to launch the new NEX mirrorless cameras. Two new entry level Alphas will be announced in June-July. One model should be the A290 the other model the A390(?). According to one source the cameras will not use the enw EXmor HD sensor.
The Sony Alpha A230
and the Sony Alpha A380
have been announced in May 2009.
The new Adobe CS5 suite is now shipping! On photoshopuser.com/cs5 you can see a very well done list of the new features.
USA:
Adobe CS5 suite on Adobe US
/ Amazon
/ BHphoto / Amazon Canada
Europe:
Direct links to the pre-order page on Adobe UK
/ Adobe Deutschland
/ Adobe France
/ Amazon Deutschland
/ Amazon UK
/ Amazon France
Asia:
Amazon Japan
Just received a tip from a known source:
mirrorless camera's price range in korea:
– (NEX3+lens) 600,000 (Korea won, $540)
– (NEX5+lens) 700,000 (korea won, $610)
the lens can be the 18-55mm or the 16mm lens (your choice!)
As I told you that's cheaper than Micro Four Thirds cameras
!