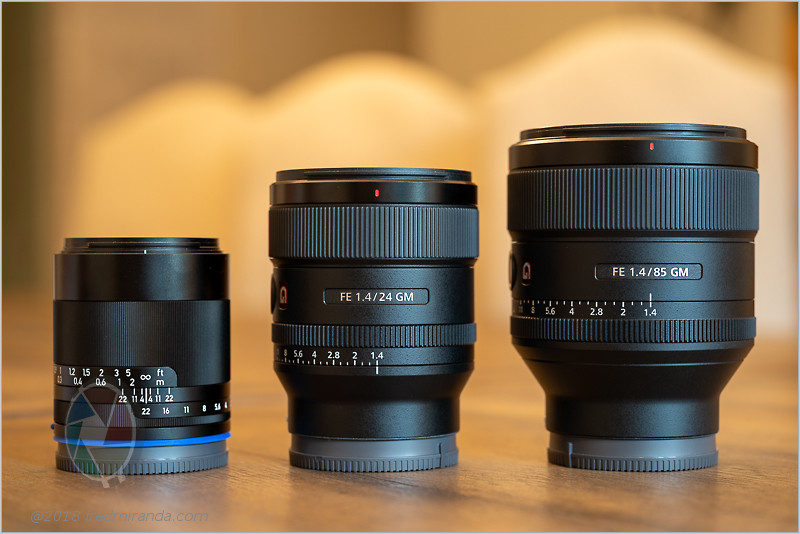 Sony 24mm f/1.4 GM lens at Bhphoto. Adorama. Amazon. Calumet Germany. WexUK.
Fred Miranda (Click here) published his full Sony 24mm GM review. This is his conclusion:
–
Sony hit a home run with their FE 24/1.4 GM lens. Uniting all the attributes within this all rounder – It's superb for nightscapes, travel, environment portraits and as a walk-around general lens. Once again Sony created a top resolution lens, without neglecting out of focus rendering. At infinity distance, it's sharp from center to extreme corners at f/1.4 and has superb resolution starting at f/2.8. At f/4, it even competes with landscape specialists like the Loxia 25/2.4. All this with a flat-field performance.
However, I'd say flare resistance is only slightly above average for a lens in this class, and contrast never disappoints. Like I wrote in my first impressions, it's the perfect companion to the FE 85/1.4 GM sharing a similar rendering signature.
Sony constructed all this while keeping it compact and light and offering great ergonomics that include features like custom button, aperture ring with de-clicking, AF/MF button and Linear MF by wire. The latter almost tricks you into thinking it's a helicoid manual focus lens. It's not better than the Loxias for landscapes but you might need a second take to see the differences. All I can say is that I hope Sony continues producing GM primes and that one day we'll be treated to a 15/2 GM, 40/1.4 GM and 135/1.8 GM in the future!
Pros:
Great resolution from wide open across the field. The best extreme corners I've seen at 24mm and f/1.4.
Minimal Field Curvature. The lens is practically flat-field.
Superb rendering with smooth bokeh at any distance.
Round bokeh balls with clean inner structure. (No onion ring pattern)
Superb coma performance. (The best in the business)
Great MFD performance. Works great with close-up achromats for even greater magnification.
Great build quality with low tolerance construction
Weather sealed. This is a big advance to landscape specialists like the Loxia line.
Super light and compact for a 24mm f/1.4 lens.
Fast and quiet AF with great Eye AF performance.
Great ergonomics with custom button, aperture ring with de-clicking, AF/MF button.
Linear manual focus by wire implementation. It really feels like the real thing. :-)
Low Distortion.
Cons:
Flare resistance is slightly above average for a lens in its class.
Some astigmatism visible towards the corners.
Moderate lateral CA (LaCA).
Moderate longitudinal CA (LoCA).
Strong vignetting at wide apertures.
Sunstar definition (Needs f/13 or smaller for well-defined sunstars). Although this is a "cons" for landscape photography, lenses with round aperture blades are preferred for all other applications since bokeh balls remain "round" when stepping the lens down.
–
Sony 24mm f/1.4 GM lens at Bhphoto. Adorama. Amazon. Calumet Germany. WexUK.