UPDATED: Sony Alpha 700 successor news coming…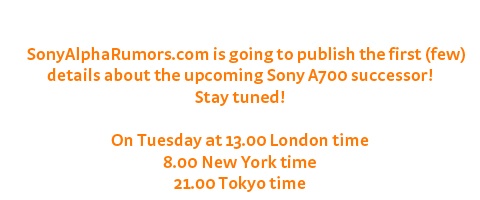 IMPORTANT UPDATE!!!: The Sony A700 successor rumor has been published here
SonyAlphaRumors finally has got first details about the Sony Alpha 700 successor. Do not expect images or full spec list. Just few very awesome details!
UPDATE:
– This is going to be one of our rumors, there is no official Sony news or event on December 1!
– This is the first and last time we will pre-announce a rumor. After Tuesday we will post a rumor as soon as we have one.
– Regarding the wrong November 18 rumor read this post: "More news about the rumored GH1 Sony competitor…".