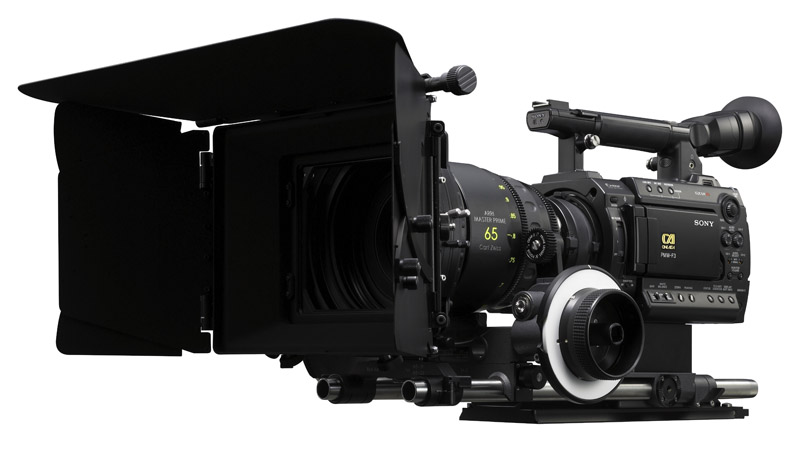 Sony also announced its first cinema camcorder (PMW-F3) with its new "Super 35 CMOS sensor" onboard. The camcorder has a PL mount lenses, MPEG-2 Long GOP video compression scheme and XDCAM EX Recording format. To bad the camera has no Alpha mount but I guess it makes a lot more sense to use the PL mount to appeal the pro-market. PL-mount lenses are especially designed for video and very expensive lenses (I found lenses up to $38.000 here on eBay).
Press release:
The PMW-F3K is part of the CineAlta 24P family of digital cinematography products and its support for multiple frame rates includes a filmic 23.98P as well as S-Log workflows.
Sony's Exmor™ Super35 CMOS sensor was designed with the benefit of two decades experience in Digital Cinematography, pioneering digital HD acquisition for feature films and broadcast TV through the legendary CineAlta product range. It brings a true 'film look' and superior image quality into reach for independent movies, pop promos, commercials and other applications, as well as making the PMW-F3K an ideal B-camera for high-end feature film production.
The PMW-F3K is supplied with three high quality Sony lenses and an industry standard PL Mount adaptor providing compatibility with industry standard 35mm lenses. (Also available is the lens-less PMW-F3L.)
Exceptional flexibility is a key feature of the PMW-F3K along with with multiple workflow options. XDCAM EX's proven high-speed, intuitive workflow offers seamless integration with leading nonlinear editing software – as standard. In addition, a 10bit 4:2:2 HD-SDI output opens up hybrid recording possibilities with a variety of external recording devices. And from April 2011, a Dual Link HD-SDI option will enable 10bit RGB uncompressed signal output – ideal for the high-end film production.
This product comes with PrimeSupport – fast, hassle-free repairs and a helpline offering expert technical advice. Which gives you the peace of mind that Sony is looking after your equipment, and your business.
Sony intend to release it on the 1st of February in with-lens (2,205K JPY) and without-lens (1,522.5K JPY) packages.

Via Sony.co.uk