Sony catching up with A7sIII demand: New orders will likely ship in November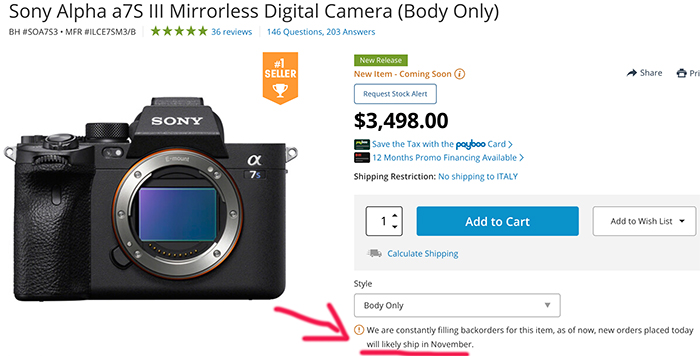 Last week Amazon US finally re-added the A7sIII preorder option. And this week BHphoto notified that new orders will likely ship in November. I hope that for Christmas evryone who wants the A7sIII will have it in their hands.
Meantime ePhotozine posted their full Sony A7sII review and concluded:
If we cut to the chase, the Sony Alpha A7S III is, ultimately, designed for videographers. In this area, the A7S III excels, giving video capabilities beyond what most other mirrorless cameras offer. With the exception of the Canon EOS R5. However, the A7S III does not suffer from the same overheating issues as the R5, and if you don't need or want 8K video, then the A7S III is going to be a better choice. It also offers exceptional low-light performance, with a 12mp BSI CMOS sensor. 4K footage recorded at 120fps looks excellent, and the in-body image stabilisation does an excellent job keeping video steady.

You've got a 3inch vari-angle touch-screen, which should keep vloggers happy, although it would be nice if the size and resolution were improved. We're impressed by the new menu system, which can be used with the touch-screen, and being able to switch between NTSC and PAL without formatting the memory card is finally resolved!

For stills photographers, the 12mp resolution is likely to feel limiting, especially when we're used to using 20/24/36/45mp cameras. It's a shame, as the 9.44m dot EVF is excellent, and will make any viewfinder user happy with the view. However, for those that need to shoot in very low-light conditions, then the A7S III may be an option. You've also got the new Z battery, that gives 600 shots, as well as a weather-sealed camera body, that should make it suitable for use in a variety of conditions.

For videographers who want high-quality 4K video, the A7S III has got to be extremely desirable. Especially as 4K video is far easier to deal with compared to 8K footage, and can be recorded to SD cards. For stills photographers, then you've got to be shooting in really dark conditions for the A7S III to be needed.
Here comes the Sony a7S III Memory Card Guide with Miguel Quiles:
And this is a new review from HR images:
Photoshooting by David Oastler: