Speculations on forums: Did Diglloyd post images shot with the new Loxia 21mm and Otus 28mm lens?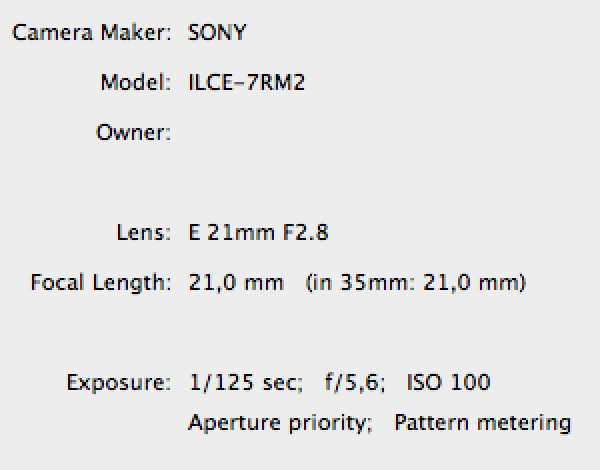 I got many mails from readers and saw many discussions on forum about Diglloyd latest posts. In particular people are questioning about two posts:
Post one (Click here). Diglloyd posted images shot on the A7rII with a unnamed 21mm lens. The File Info shows this is an E-mount 21mm f/2.8 lens. There is no such lens on the market yet and Diglloyd doesn't say in that post what lens he used. So because people keep discussing about those images on the web I asked him what lens he used and he answered he used an adapted [shoplink 41039 ebay]ZF lens[/shoplink]. It's up to SAR readers to believe him or not :) UPDATE: On a new post Diglloyd makes it clear those ar ZF lens shots.
Post two (Click here). Diglloyd posted an A7rII image shot with what he called "unknownLens". Again, on forum and other blogs people speculated this could be the first image shot on the new Otus 28mm f/1.4 lens.
Beside all that speculation I have been told by my sources the new Loxia FE lens design is based on the current [shoplink 9804 ebay]Biogon T* 2,8/21 ZM design (here on eBay)[/shoplink]. And announcement should be made someday next week!
And do not forget that one week after the Zeiss Loxia 21mm announcement also Sony will announce their 8 new FE lenses too! Stay tuned on SAR!
–
To not miss any rumor quickly subscribe our social network:
RSS feed: http://www.sonyalpharumors.com/feed/
Facebook: https://www.facebook.com/sonyalpharumors
Twitter: https://twitter.com/SonyAlphaRumors
GooglePlus: https://plus.google.com/104216500156717934391/posts
And if you have some "rumor" to share just send me an anonymous messages here:

Error: Contact form not found.
Reminder (SR = Sonyrumor):
SR1=probably fake rumor
SR2=rumor from unknown sources
SR3=50% chance it is correct
SR4=rumor from known sources
SR5=almost certainly correct!