(SR4) Two upcoming Sony announcements (One on April 23 and another one in June)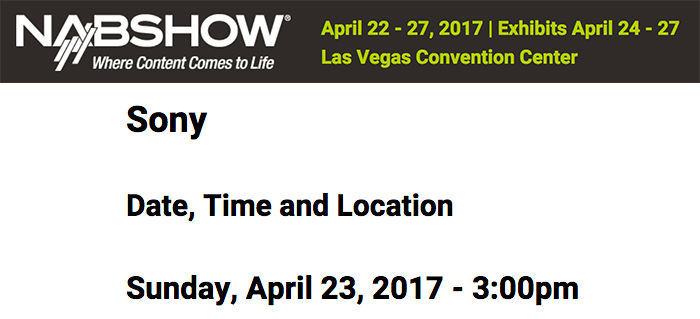 So far we got info about two upcoming announcements from Sony:
1) One on April 23 at the NAB show
2) Another product announcement event around June

Regarding the June announcement: I have no exact date yet. Keep in mind that sometimes Sony shifts products announcements by few weeks in the very last moment. Last year the Zeiss FE 50mm F1.4 was announced on July 11 while the Sony press text contained the June 29 date. So I hope to confirm exact date and the June month in the coming weeks
What to expect?
I still don't know exactly what new camera and lens will be announced on which event. Of course if there is a new A7sIII it would make sense to announce it on April 23. All we know for sure so far is that Sony registered two new cameras in Asia. One camera is rumored to be a new High Speed Low Megapixel camera (Dual SD card, around 20fps and around 20MP) and one is rumored to be a new RX (maybe RX1III with same 42MP sensor, IBIS, same 3.68MP Leica Q EVF and 4K video???).

.
–
To not miss any rumor quickly subscribe our social network:
RSS feed: https://www.sonyalpharumors.com/feed/
Facebook: https://www.facebook.com/sonyalpharumors
Twitter: https://twitter.com/SonyAlphaRumors
If you have some "rumor" to share just send me an anonymous messages here:
at sonyalpharumors@gmail.com or use the contact form you see on the right top of this site.
Reminder (SR = Sonyrumor):
SR1=probably fake rumor
SR2=rumor from unknown sources
SR3=50% chance it is correct
SR4=rumor from known sources
SR5=almost certainly correct!