(SR5) Sony will announce a new "Sony A6400": It has a classic A6xxx series design with selfie screen!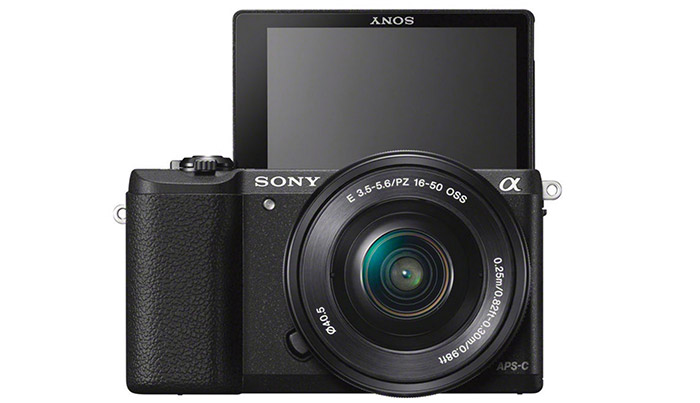 Image on top shows the current Sony A5100
UPDATE: The A6400 has been announced! You can read all about it on that special SonyAlphaRumors page.
Two sources now confirmed something that really sounds odd but I am sure it's true: Sony's new camera will be named "Sony A6400". This is what one of my sources told me:
4K Video and target for bloggers. It's like a big jump from A5100. The model name doesn't make sense but it will be called A6400.

Many thanks to the one new source that has proven to share correct rumors! Can you please let us know about the new features? I know I am asking a lot :)
SAR note: I updated my previous rumors and this post with the following new and corrected specs. The rumor also has been upgraded to SR5 which means I am now 90% sure most of this is correct:
Sony A6400 recap (ILCE6400):
– Sony A6400 will be announced on Jan 15 between 4-5pm London time.
– It's going to become the new mid-level camera replacing both the A5100 and entry level A6xxx cameras
– It has a classic A6xxx design but it has the A5100 selfie screen (SAR note: That's why for a short moment I thought this was an A5xxx camera…but it's not).
– new APS-C sensor
– Made for vloggers
– 4K30p (it has NOT 4k60p)
– No Z-battery and no dual SD card slot
– But has some new "exciting" features
It also appears that this is considered to be a "first small announcement" with a "second bigger announcement" following likely in February. Sources said Sony wants to add 4K60p on their next higher end camera that will be announced soon (my guess is that it's coming at WPPI in February)
About the new name:
I know it's a weird choice to name the A5100 and A6000 successor "Sony A6400". And even more confusing to name a camera between the currently existing A6300 and A6500. This is going to confuse quite some potential buyers. My guess is that the A6xxx series is now going to officially become the new entry-level E-mount series while the A7xxx series will be what the A6xxx was (the high end APS-C series).
–
For potential SOURCES:
If you know "something" and want to share it anonymously please use the anonymous contact form on the top right of the sidebar. Please use a nickname so that I can recognize you in future messages. You can also contact me directly at sonyalpharumors@gmail.com. Use remailer.paranoici.org to send me an anonymous message if you prefer to do so.
For READERS:
To be sure to not miss any of the upcoming news do this:
Subscribe our RSS feed (Click here).
Join us on Facebook (Click here).
Follow us on Twitter (Click here).