The big roundup: All you have to know about the new A7m2 (and the three A-mount lenses and A77m2 firmware)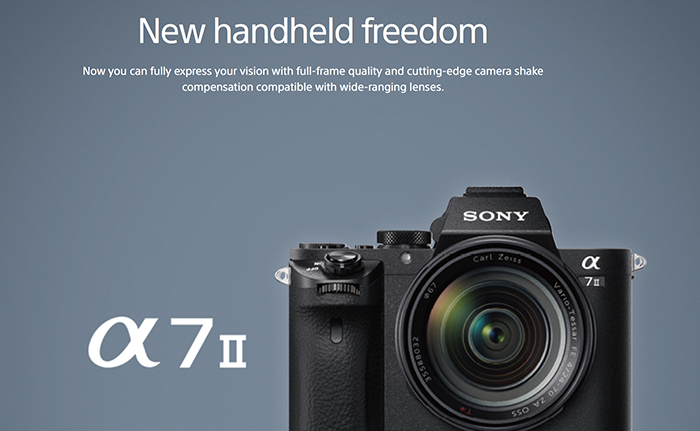 Preorders:
Sony Alpha a7II  (Body Only) for $1,698 at Amazon (Click here), BHphoto (Click here), Adorama (Click here), SonyStore (Click here).
Sony Alpha a7II  with FE 28-70mm OSS Lens for $1,998 at Amazon (Click here), BHphoto (Click here), Adorama (Click here), SonyStore (Click here).
Sony 70-300mm f/4.5-5.6 G SSM II Lens for $1,148 at BHphoto (Click here).
Today Sony announced the A7M2 (in Japan only!), three new (updated) A-mount lenses and the A-mount A77M2 firmware update (great stuff!). Here is the perfect overview to learn everything about the new products:)
Sony A7m2:
Worldwide only preorder is at Amazon Japan.
Full spec list and videos on SAR.
Full english A7m2 features list on SAR.
Image samples here on Sony.net.
Real life Images of the A7m2 on SAR.
Triple A-mount lens release:
70-300mm II official release not on SAR.
First images of the 24-70mm II and 16-35mm II A-mount lens son SAR.
A-mount A77M2 firmware:
Coming in December with two great new features (here on SAR).
The main things you need to know about the A7m2:
1) Camera will be released in Japan on December 5 and cost 190,000 yen. It will ship in Europe in January for 1.799 Euro (no US price info yet).
2) It has an amazing 5axis on sensor stabilization. It works both in stills and video mode with up to 4,5 stop stabilization (CIPA standard).
3) The 5 axis stabilization is a world's first on a FF camera and is also a Sony proprietary tech (not borrowed from the Olympus OMD). Source: SonyAlphaForum.
4) 5 axis stabilization works with all third party lenses (Source: SonyAlphaForum).
5) Sensor is the "almost" the same as the one used by the A7. But autofocus speed is 30% faster
6) The A7m2 has the shutter button on top of the grip and a new grip and texture on the A7 body.
7) It has a robust mount ring. No need to replace it with the Fotodiox solution :)
8) A7m2 has XAVC-s and X-Log2
9) Picture of Nikon and Canon managers after the A7m2 launch (SAR twitter) ;)
This is a really impressive camera for the money! All your lenses from Sony and third party lenses from every rangefinder/Mirrorless/DSLR system are now "miraculously" stabilized!
And SAR readers seem to really love this new camera:
Sorry, there are no polls available at the moment.
Images (Click on them to enlarge):
Videos:

α7Ⅱ from Sony: Official Video Release

α7 Ⅱ 5-axis SteadyShot INSIDE from Sony: Official Video Release