The "enthusiastic" Sony 24-70mm GM II reviews from ThePhophlographer, Petapixel, Lenstip and Amateur Photographer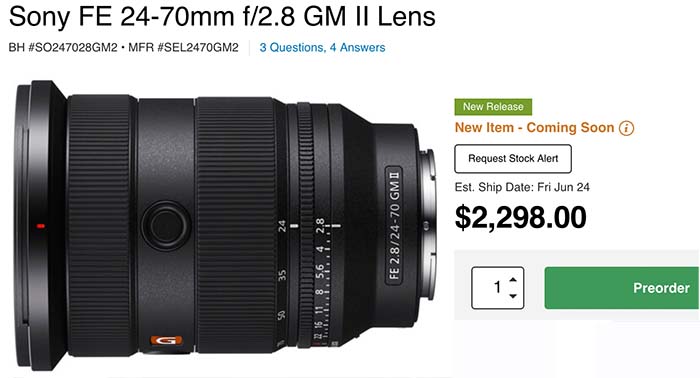 Preorders:
USA: BHphoto. Adorama. Amazon. FocusCamera. Henrys CA.
EU: Fotokoch DE. Calumet DE. FotoErhardt DE. Wex UK.
Asia: CameraPro AUS.
The bloggers that had the chance to test the new lens are very enthusiastic about it:
Amateur Photographer concludes:
A 24-70mm f/2.8 will always be one of most popular lenses produced for any lens mount. It forms the staple of many kits for professionals, while for enthusiasts, it may well be the only lens they ever buy. It is an investment and a worry when a new lens promises to be smaller and lighter. As we know, thanks to the laws of physics, there are often compromises to get the lens there.

Mirrorless cameras promised that we would have smaller and lighter lenses. Where chromatic aberrations, curvilinear distortions and vignetting were the foe of film shooters, the computational power of digital cameras can swipe them away. Combined with leaps in lens technology, this allows us to have impressive lenses in smaller and lighter shells than before. Purists might not like the fact that cameras now do some of the heavy lifting, but photographers make a living based on the results and not by analysing the raw optical performance.

So, the Sony FE 24-70mm F2.8 GM II is a great lens. If size and weight matter to you, it is worth consideration over its predecessor. It could genuinely replace some prime lenses if larger f/1.4 or f/1.8 apertures aren't essential for you – it is simply that good in detail resolution, in both the centre and the edges.
ThePhoBlographer concludes:
The Sony 24-70mm f2.8 G Master II is an excellent lens for a professional photographer that wants the cleanest, most sterile image possible. This has been Sony's mission since the start. It removes any issues with lens flare, all aberrations and gives you a clinically perfect lens. While doing this, they cut down the size and weight. Objectively speaking to how photography has been presented for years, the Sony 24-70mm f2.8 G Master II is a winner. But if you're looking for something with more soul, I'd suggest looking at Tamron and other brands instead.

Either way, the Sony 24-70mm f2.8 G Master II deserves its Editor's Choice award because it's so darned good. We're also giving it five out of five stars.
PetaPixel concludes:
The Sony 24-70mm f/2.8 GM II makes significant upgrades to the outer body by giving shooters many new ways to control the lens. It's also shorter and lighter despite the addition of two elements and changing the autofocus motor system entirely. As a Mark II lens, it delivers updates that will make it a compelling workhorse contender for the next six years.
Lenstip concludes:
To sum up our first impressions are very positive; of course a comprehensive assessment of the new Sony lens will be possible only when its final specimen arrives to our office and goes through our full testing procedure. To be honest we can hardly wait…