This is cool: New Camrote iOS Sony Remote control App launched!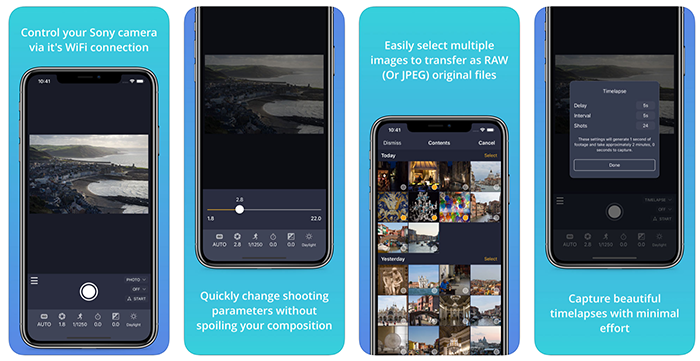 I have been in contact with Simon Mitchell for a long time. He worked hard to create th e Camrote APP (Click here to get it for free) and today it got approved by Apple! This APP works for both iPhone and iPads.  This is the text he sent me:
Happy new year! After a super-long wait (It's now been over two weeks) Apple finally approved the app! There's a link to it here: 

With features tailored to everyone from amateur to Pro photographers Camrote has you covered, making it a fantastic tool for all you Sony lovers.

From taking family self-portraits to setting up and capturing complex scenes, Camrote is the tool for you!

Features & Benefits
• Easy transfer of full-resolution RAW files (or JPEG… or both!) from your camera.
• Simple connection process via QR, NFC, recently connected devices or manual entry.
• Ability to change shutter settings with the flick of a finger.
• Fantastic compositional grids for any situation.
• Simple to use and effective time-lapse mode.
• A beautiful default dark theme to help you when working in low-light conditions.
• Simple and intuitive UI for capturing geotagging tracks via GPX for import to Lightroom or other editing software. *
• Easy interface for either batch download or single download of captured images.
• Designed from the ground up to be fast and intuitive on both iPhone and iPad to make capturing photos a breeze.
• Customisable UI: Choose whether to configure shutter settings using a slider or radio buttons.

Coming Soon
• Ability to delete photos from your camera.
• Ability to change focus mode.
• More information whilst shooting time-lapses.
• Low battery and memory warnings.
• Support for image transfer on newer (And older) models via the "Send to Smartphone" option.
• Apple Watch support to configure and capture photos from your wrist!
• Histogram viewer.

Future Functionalities
• CamBot, a powerful assistant for automating shots and providing advice.
• Support for other camera manufacturers**

Made with Love
Camrote is made with love in Wales, by an avid Amateur photographer and has the support of a large community of beta testers who are constantly suggesting brilliant new features and ideas! It will only continue to get better with time.

In-App Purchases
Some features require in-app purchases to use, or are extendable via an in-app purchase. These purchases will be charged to your iTunes Account. Terms and Conditions can be found here: http://camrote.app/terms_and_conditions

* Continued use of GPS running in the background can dramatically decrease battery life.
** Some manufacturers may not be supported where documentation is not available.
He is reading SAR right now. If you have questions please post them in the comment system!