Today only: $150 off on the Sigma 35mm f/1.4 Art Lens for Sony E at BHphoto…and $50 more discount with code!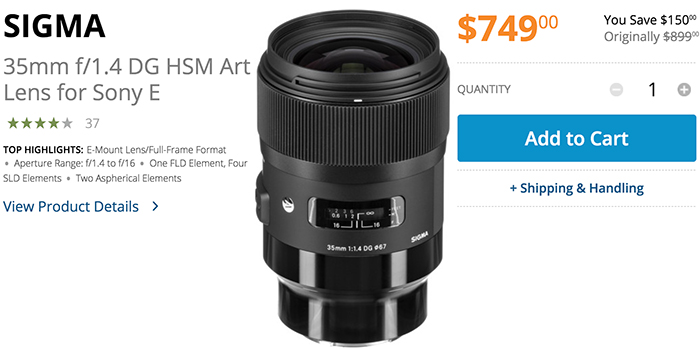 Today you save $150 on the Sigma 35mm f/1.4 FE lens sold by BHphoto and FocusCamera. UPDATE: You can still use the checkout code "YOUGO2BH" to save additional $50 on this deal!!!
eBay is advertising these two grey imported deals on the Sony A7III for $1,779 (Click here) and the Sony A7rIII for $2,324 (Click here). Both cameras are served with the 1 year seller warranty which they claim is equivalent to the one offered by Sony.

And Samyang-Rokinon launched new savings on their FE autofocus lenses:

Now $251 off on the 14mm f/2.8 at BHphoto, Adorama,
Now $225 off on the 24mm f/2.8 at BHphoto, Adorama.
Now $50 off on the 35mm f/2.8 at BHphoto, Adorama.
Now $251 off on the 35mm f/1.4 at BHphoto, Adorama.
Now $225 off on the 50mm f/1.4 at BHphoto, Adorama,