World's widest f/1.4 got announced! The Sigma 20mm f/1.4 ART.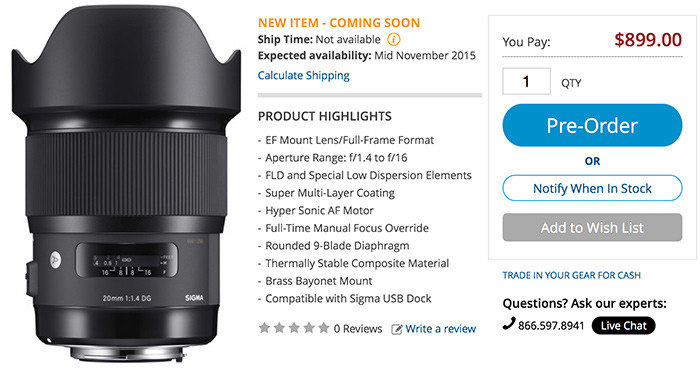 The new Sigma 20mm f/1.4 ART lens will ship in November for $999 only! That's 5 times less expensive than the Otus 28mm f/1.4. Of course there is a huge difference between 28mm and 20mm and I expect the Otus to be a tiny fraction better. You can already preorder the lens here:
Nikon F mount version at BHphoto and Adorama.
Canon EF mount version at BHphoto and Adorama.
Sigma writes:
With a focal length of 20mm and F1.4 aperture, this lens delivers outstanding large-aperture brightness and bokeh, delivering unprecedented visual experiences.
To offer an ultra-wide-angle 20mm focal length and F1.4 brightness at wide-open aperture, this lens incorporates a large double aspherical lens 59mm in diameter. Lenses of this type had been considered extremely difficult to manufacture, but SIGMA took on the challenge to realize an F1.4 ultra-wide-angle lens that fulfills the strict performance requirements of the SIGMA Art line. Moreover, SIGMA's advanced optical design minimizes distortion, transverse chromatic aberration, sagittal coma flare, and the reduction of brightness toward the edges of the image. Delivering top performance even at wide-open aperture, this lens can be considered the culmination of SIGMA's Art line.
Full details here: http://www.sigma-global.com/en/lenses/cas/product/art/a_20_14/