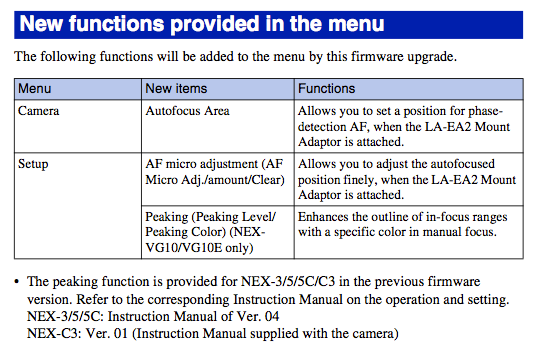 I keep getting good news all the time now ;) After the new Tamron announcement and NEX-7 shipment news I also can post you the first pdf with the NEX-5/3/VG10 firmware info. It's coming veeery soon! Download the pdf here: nexvg.info/VG10_fw_update.pdf. (A SAR reader just told em that the linsk ahs been found by Christopher Ashworth).
And here is the new in Stock status of the Zeiss 24mm f/1.8 for NEX.
It's in Stock in Europe at Amazon Deutschland (Click here), Amazon UK (Click here), Sony Sweden (Click here) and Cameracenter UK (Click here).
In Asia/Australia at Sony Australia (Click here), Digitalrev (Click here) and eBay (Click here).
Still not in Stock in North America: SonyStore US (Temporarily out of Stock) and Sony Canada (In February only?).