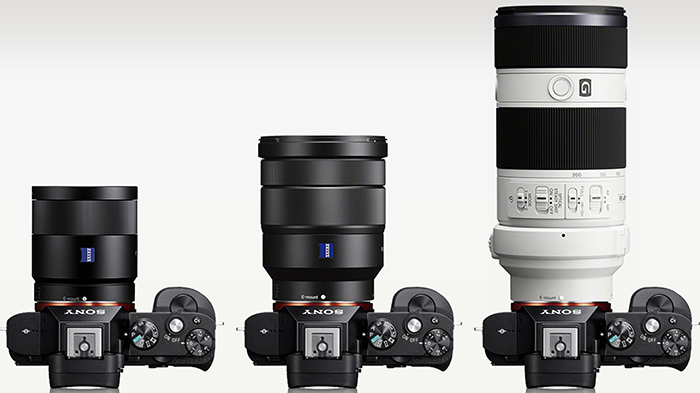 The lens size comparison via Camerasize.
Photoreview tested the Zeiss 16-35mm lens and writes:
Subjective assessments of test shots showed the review lens to be a good performer, delivering good centre-of-field sharpness, well-resolved detail and accurate colour rendition. Quite a lot of corner softening was found at the shorter focal lengths, probably caused by curvature of field, which is not uncommon in ultra-wide-angle lenses. Stopping down largely eliminated it.However, even at the smallest aperture settings, there was high enough resolution for the lens to be useful, which makes this lens a good choice for landscape photography.
SLRgear reviewed the Sony FE 70-200mm lens:
Optically, the lens is very good and carries many of the technical bells and whistles that an enthusiast to professional photographer demands — good image stabilization and well-built construction (though we have our doubts about the lens's purported dust and moisture resistance). But for all other avenues, the 70-200 ƒ/4 FE lens is solid choice for Sony mirrorless shooters looking for a high performance telephoto zoom.
Mirrorlessons tested the 55mm FE lens:
I think that the 55mm paired with any of the Sony A7 cameras produces a fantastic combo and I wouldn't renounce it even now. It was also very helpful for the last wedding I shot in Italy. The only lens I could perhaps consider to replace the 55mm is the Loxia 2/50. The quality is basically the same and I really liked my time with the two Loxia lenses when I reviewed them in November last year. But there is no question that autofocus is a nice feature to have.
16-35mm Zeiss FE lens store links:
USA/Canada  at Amazon, Adorama, BHphoto, Sony Store US, Sony Canada.
Europe at Sony DE, UK, ES, IT, FR, CH, AT, NL, BE, FI, SE, NO, PT.
Australia and Asia at Sony AUS, Amazon Japan and Digitalrev.
Sony 70-200mm FE lens store links:
USA at Amazon (Click here), BHphoto (Click here), SonyStore (Click here).
In Europe at Sony DE, UK, FR, IT, ES, AT, NL, BE, CH, FI, SE, PT
Zeiss 55mm f/1.8 lens store links:
USA/Canada: Amazon, Adorama, BHphoto, SonyStore US and Sonystore Canada.
Europe: Sony DE, UK, FR, IT, ES, NL, BE, CH, AT, SE, FI, NO, PT