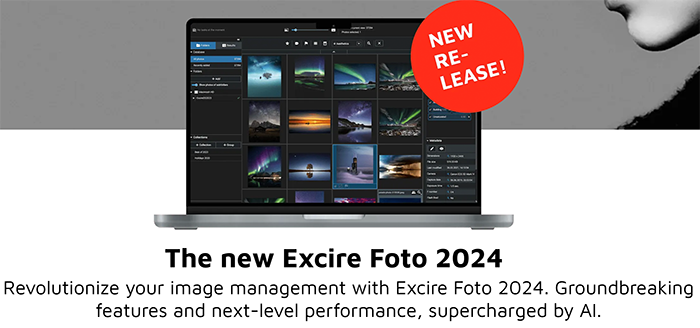 Excire Foto 2024 has been released with five separate AI models and two groundbreaking new features:
Prompt-search AI, so that photographers can instantly retrieve any image in their photo library simply by typing in a text description (e.g., "Grand Canyon sunset" or "person by the Eiffel Tower with a yellow umbrella").
X-tetics AI, which intelligently scores images based on their aesthetic qualities and has been trained on data from hundreds of thousands of photos and input from expert photographers.
Press text:
Step Into the Future: Excire Foto 2024 Is Redefining Image Management
PRC's Revolutionary Photo-Organizing Software Offers Prompt Search, AI Image Evaluation, and More
Lübeck, Germany – September 27, 2023 – PRC, the AI company behind the award-winning Excire software, has today launched the latest iteration of its innovative photo-management program: Excire Foto 2024.
Powered by five state-of-the-art AI models, including a prompt-search AI that allows users to instantly retrieve images by inputting text descriptions and an X-tetics AI that intelligently rates each image based on its aesthetic qualities, Excire Foto 2024 propels photographers into a new era of image organization – one where keywording, image evaluation, culling, and retrieval are almost entirely automated, enabling photographers to spend less time behind the computer and more time on their craft.
"Our vision was to combine cutting-edge AI with intuitive design to provide an unparalleled photo-management experience," said Erhardt Barth, CEO of PRC and a machine learning expert at the University of Lübeck. "Photos cataloged with Excire Foto 2024 aren't just stored. They're always at your fingertips, ready to be revisited any time you wish."
An Image Workflow Like Never Before
Fast, effective, and essential for any photographer seeking a time-saving approach to image organization, Excire Foto 2024 boasts an array of features designed to shortcut traditional file-management bottlenecks and eliminate tedious workflow tasks for both hobbyists and professionals. With Excire, photographers can:
Instantly retrieve any image with X-prompt AI, a revolutionary new tool that puts entire photo catalogs at users' fingertips. Thanks to X-prompt AI, photographers can find files in their Excire databases by inputting a text description, such as "fast red motorcycle on a country road at sunset." Using the prompt tool is highly intuitive – just type a sentence into the provided search field and instantly view the results. Excire's powerful AI engine is capable of understanding complex sentences, context, and even abstract concepts such as "happiness" and "sorrow." Gone are the days of searching endlessly for lost files; instead, if the user can describe it, they can find it.
Evaluate photos with X-tetics AI, a newly designed feature designed to accurately judge image aesthetics. Trained using hundreds of thousands of photos as well as extensive input from expert photographers, the X-tetics AI feature independently evaluates each image uploaded to a user's catalog, then outputs a unique Aesthetics Score for each file. Aesthetics ratings can then be used to swiftly identify the most shareable – and most deletable – images from photoshoots, as well as to uncover hidden gems from deep within an image database.
Automatically categorize files with X-tags AI, the innovative tool that analyzes each photo upon import and applies relevant keywords to aid in search and categorization. Thanks to X-tags AI's unique capabilities, users can skip the tedium of manual keywording and can instead let Excire do the heavy lifting, making it easier than ever to categorize and retrieve images based on their content. While X-tags AI has appeared in previous versions of Excire software, the latest version boasts a revamped engine with enhanced content-detection capabilities for outstanding accuracy.
Manage photos with X-face AI and X-alike AI, two more powerful features for finding, organizing, and culling images. X-face AI's advanced facial-recognition technology allows photographers to categorize and retrieve files containing specific individuals as well as certain facial characteristics, such as age, sex, and the presence of a smile. And X-alike AI's image analysis enables users to search for similar files – based on an initial image prompt – or even identify near-duplicate images for deletion. Like X-tags AI, these features first appeared in previous iterations of Excire Foto, but the latest version boasts upgraded AI technology for improved results.
Additional new features include:
Excire Analytics, a tool designed to assess photo collections and offer valuable insights into the user's photography behavior, such as their essential equipment and top photo subjects. Analytics was previously available only as a paid Excire Foto 2022 extension, but Excire Foto 2024 offers automatic integration with the program.
A slideshow function, so that photographers can display image collections to friends, family, and clients
A custom-status label, so that photographers can mark image collections as "In progress" or "Done" as they move through their organizational workflow
GPS-based search, which enables users to search for and quickly retrieve images based on location data; the tool also lets users manually edit and add GPS coordinates as needed.