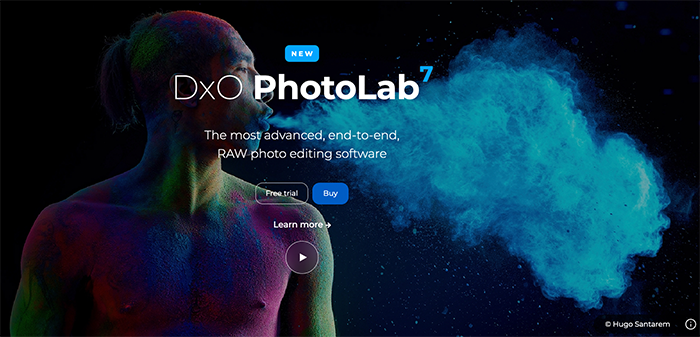 DxO just launched the new DxO PhotoLab7 (Click here) and the new DxO FilmPack 7 (Click here). You can also download a free trial version for both.
Press text:
DxO PhotoLab 7 introduces unique color calibration and editing tools, revamped local adjustments, and a powerful B&W workflow
This release also benefits from new LUT support (with 17 original presets included), vibrant color renderings, inspirational black-and- white effects, and more.
Paris (France): DxO Labs, for two decades the pioneering force in photo-editing software, today announces the release of DxO PhotoLab 7, its complete RAW image-processing and correction software. This new version features a unique in-frame color calibration tool, exclusive to DxO, which lets photographers create scientifically accurate, real-life colorimetric profiles in just a few clicks. For the first time, Look-Up Table (LUT) support is also introduced, along with a host of interface and usability improvements to its local adjustment tools. In addition, version 7 introduces DxO Styles, a selection of distinctive renderings that give photographers a creative foundation for their edits.
"Our goal has always been to give photographers the ultimate in image quality, and PhotoLab 7 takes this another step further," says Product Director Fabrizio Dei Tos Navalesi. "Combined with our ultra-wide gamut and soft proofing functionality, the introduction of the color calibration tool and support for LUTs creates a whole new level of control."
Committed to color
This new version of DxO PhotoLab enables photographers to apply true-to-life, scientifically accurate color profiles to their images. Facilitated by a unique tool, working in concert with one of six industry-standard color checker charts from Calibrite and Datacolor, PhotoLab 7 can therefore eliminate the fallibility introduced by human ocular perception and the guesswork required when compensating for ambient viewing light or the color profile of a monitor.
Cinematic-style grading
PhotoLab 7 now supports Look Up Tables (LUTs) and comes with 17 DxO starter presets. These developments complement the advances in color management made in version 6, which introduced re-engineered color processing algorithms, a new extended working color space (DxO Wide Gamut), and a Soft Proofing mode.
PhotoLab first began to set the standard in color control through its innovative HSL Color Wheel. The spectrum of color control tools now available in version 7 is therefore the result of years of concerted effort to deliver the lifelike and expressive color demanded by serious photographers.
HSL editing as part of local adjustments
PhotoLab 7 also brings color control to a local level. Photographers can now enjoy the powerful but easy-to-use HSL ColorWheel as part of their local adjustments, for instance, altering the color of a subject's clothing, or subtly warming the highlights of a landscape scene, all with the highest quality and total creative freedom.
A natural black-and-white workflow
Just like its commitment to color, DxO PhotoLab 7 has new tools that help photographers create their definitive monochrome workflow. The interface includes a new tab to switch to monochrome and a range of new film renderings – plus PhotoLab 7 introduces a six-channel mixer for complete tonal control across black-and-white photography.
Local adjustments revamped
The ability to make precise local adjustments is a vital part of creative photo editing. DxO PhotoLab 7 makes this easy by organizing local adjustment tools into a new dedicated palette in the workspace. This evolution keeps the interface cleaner and makes photos more visible while they're being worked on, allowing even greater precision from the popular U PointTM tool.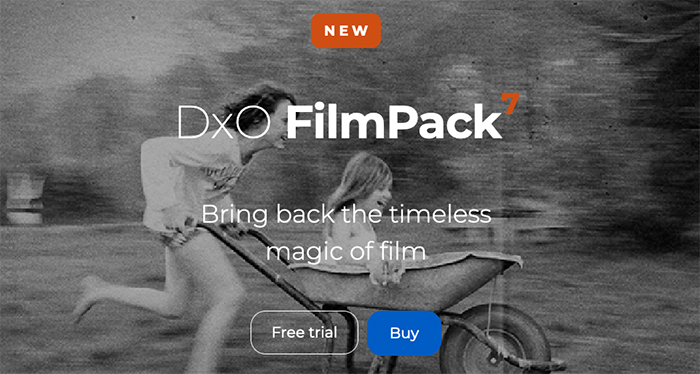 —
DxO FilmPack 7 includes fresh editing tools, an enriched Time Machine mode, new film renderings, and more personalized workflow
FilmPack 7 is DxO Labs' tribute to analog image-making, immersing photographers in its rich history and creativity.
Paris (France): DxO Labs, a pioneer in photo-editing software for over 20 years, today announces the release of DxO FilmPack 7, designed for digital photographers who love the timeless magic of film. It follows almost two decades of researching and digitizing the unique characteristics of classic film stocks in order to keep them alive in the digital era.
The release of FilmPack 7 includes: a powerful Luminosity Mask tool for complete tonal control; more iconic photos presented with historical information and related renderings in the Time Machine mode; a selection of new film renderings; and more.
"At DxO, we love photography," explains VP of Product Strategy Jean-Marc Alexia. "FilmPack is our tribute to 200 years of analog history. Version 7 gives photographers who miss the magic of film the chance to immerse themselves — but with all of the convenience of digital."
To celebrate the release of this version, DxO has partnered with large format film photographer Gary Zuercher, who, for 20 years, has documented the beauty of Paris and its bridges at night — and those who purchase FilmPack 7 will be eligible to win a copy of his photobook.
New Luminosity Masks for unequaled editing
New in DxO FilmPack 7, Luminosity Masks enable the fine adjustment of exposure, color, and contrast. Users can now target specific parts of the image for precise changes such as adding warmth to highlights, offering a new level of control.
Upgraded Time Machine mode
Inspired by history's greatest photographers and their favorite film stocks, DxO FilmPack 7's Time Machine features a large collection of iconic photographs. Users can experience historical styles in context and then apply them to their own shots.
Spanning almost two centuries of image-making, Time Machine is presented as a simple timeline gallery. Below each image, users can find the backstory to the photograph, as well as corresponding renderings. In a couple of clicks, users can enjoy the exact same look on their own photos.
In DxO FilmPack 7, photographers can enjoy 22 new historical images and events, in addition to 26 new presets, bringing the total to 94.

25 new film renderings and digital styles
In addition to its already wide array of authentic film renderings, FilmPack features a series of digital styles — a nod to the popular color and black-and-white modes on modern cameras. The new release has enriched the selection of both.
With 5 new analog film renderings and 20 new digital effects, users have more choice in defining the unique look of their photography. These renderings include modern classics: Cinestill Redrum 200, LomoChrome Metropolis 200, Lomography Redscale XR 200, Berlin Kino B&W 400, and Earl Grey B&W 100. The digital renderings see new styles from Nikon and Fujifilm.
In FilmPack 7, the new additions bring the total number of high-fidelity color and monochrome film renderings to 89 and the total number of digital styles to 82. These are all highly adjustable, giving photographers a vast resource to find their signature look.
Win a copy of 'The Glow of Paris'
To celebrate the launch of FilmPack 7, DxO is offering customers the chance to win a beautiful photobook of black-and-white photographs, worth $50. 'The Glow of Paris' by internationally acclaimed photographer Gary Zuercher presents Parisian bridges at night, and DxO has 100 copies to give away. For more details visit dxo.com/dxo-filmpack/contestglowofparis.
—
DxO's 1,185 new Optics Modules deliver optimum quality for Canon, Nikon, Sony, Leica, Sigma, and more
Support arrives for the Sony a6700, 800mm and 1200mm prime lenses from Canon and Nikon, Sony's brand new 70-200mm f/4, and more.
Paris (France): DxO, the recognized authority in automatic optical corrections, today announces 1,185 new Optics Modules, bringing previously unavailable quality to thousands of camera and lens combinations. The release introduces support for the recent Sony A6700 camera, plus several super-telephoto prime lenses including Canon's RF 800mm and RF 1200mm lenses, Nikon's AF-S 800mm f/5.6E, and Sony's lightweight FE 70-200mm f/4 Macro G OSS II. Modules for Leica and Sigma lenses are also included.
Latest DxO Optics Modules
The latest DxO Optics Modules update — available now — includes the following cameras and lenses, each optimized for specific camera-lens combinations:
Camera
• Sony A6700
Lenses
• Canon RF 1200mm F8L IS USM
• Canon RF 1200mm F8L IS USM with RF TC 1.4x
• Canon RF 1200mm F8L IS USM with RF TC 2x
• Canon RF 800mm F5.6L
• Canon RF 800mm F5.6L with RF TC 1.4x
• Canon RF 800mm F5.6L with RF TC 2x
• Leica Summicron-SL 35mm F2 ASPH
• Leica Summicron-SL 50mm F2 ASPH
• Nikkor AF-S 800mm F5.6E FL ED VR
• Nikkor AF-S 800mm F5.6E FL ED VR with AF-S TC-14E III
• Nikkor AF-S 800mm F5.6E FL ED VR with AF-S TC-20E III
• Nikkor Z 70-180mm F2.8
• Nikkor Z 70-180mm F2.8 with Z TC 1.4x
• Nikkor Z 70-180mm F2.8 with Z TC 2x
• Sigma 17mm F4 DG DN (Sony FE)
• Sigma 20mm F2 DG DN | C (L-mount)
• Sigma 24mm F3.5 DG DN C (L-mount)
• Sigma 90mm F2.8 DG DN (L-mount)
• Sony FE 70-200mm F4 Macro G OSS II
• Sony FE 70-200mm F4 Macro G OSS II with SEL TC1.4x
• Sony FE 70-200mm F4 Macro G OSS II with SEL TC2x