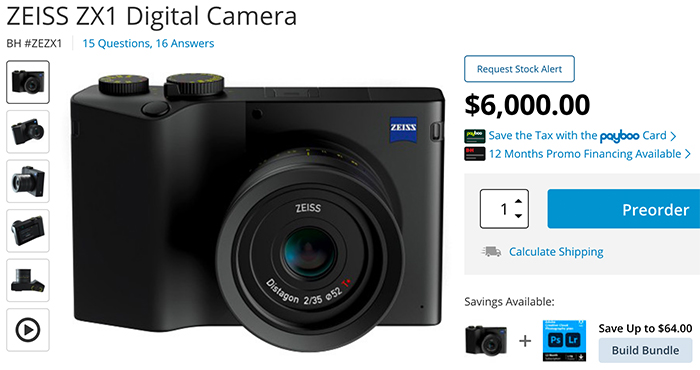 Zeiss ZX1 camera at BHphoto, Adorama and Fotokoch. There are also a ton of ZX1 accessories (listed at BH).
Dpreview is testing the new Zeiss ZX1 which is nearly entirely made of Soy components and can be sort of considered an RX successor camera. Their early first impression conclusion is:
Overall, I'm glad the Zeiss ZX1 exists. It's refreshing to see a manufacturer do something truly different from the competition. The design is striking, and there are probably well-off photographers out there who want as simple a shooting experience as possible, but still want to be able to fine-tune their images in post. It's an interesting proposition for world travelers as well (once such things are feasible again). For these folks, the ZX1 means you get everything you need in one device.

But what of the rest of us? After all, this is a $6000 camera, or fully one thousand dollars more than the already premium-priced Leica Q2. That buys a lot of gear, plus, frankly, a lot of smartphone. So speaking personally, I'm leaning towards sticking with the smartphone in my pocket and a 'dumb' camera around my neck… for now.