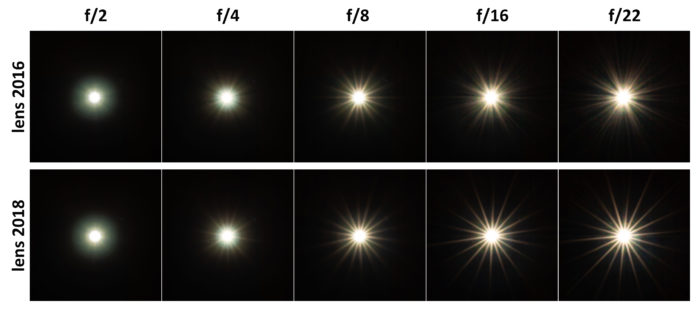 Well this is quite an interesting finding. One of our reader shared it:
I am Le Minh Bui from Vietnam.

I want to share with you a surprise. A friend of mine accidentally found out that there are different versions of FE 28mm f/2 that show a huge change in the sunstar effect. He borrowed a new FE 28mm and it produces a fantastic sunstar, which is in contrast with the old lens (mediocre sunstar).

A closer look revealed that the new version has re-designed aperture blades that are curvy at the top and straight in the bottom, instead of being curvy from top to bottom (the old design). For comparison, I included the close shot of Voigtlander 28mm f/2, which shows a very nice sunstar even at f/4. Voigtlander blades are straight!

It seems nothing else is different between the two. Based on various reviews, I narrowed down the time when Sony made the change is in 2016-2017 period, but I can't tell exactly from which batch. The easiest way to distinguish them is by the shape of the iris. If the lens is closed down and form a straight nonagon shape, it's the new version.

I notice that all of the lenses that Sony has announced recently have the same blade design to balance the bokeh and sunstar effect, especially the new GM 24mm f/1.4 (very round bokeh even when stopping down to f/5.6, but the sunstar is very nice from f/8).
Maybe some readers can report if they had similar results on other lenses too?