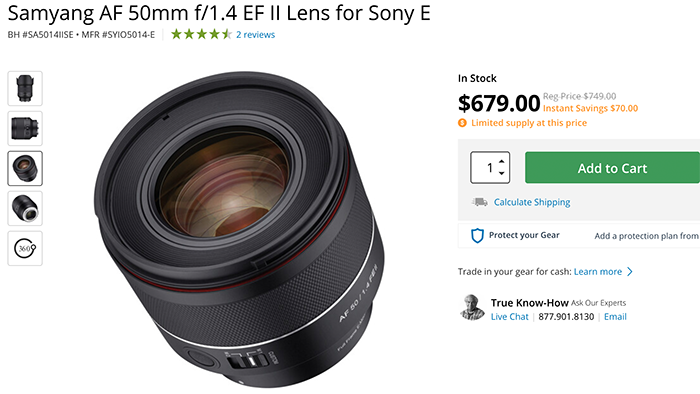 Thew new improved version is now in Stock with a $70 discount at Bhphoto. and Adorama.
Amateur Photographer concludes:
When Samyang released its original 50mm F1.4 back in 2016, it counted as a very decent first effort at an autofocus optic. But expectations have changed since then, with lenses now required to provide a good account of themselves on high-resolution sensors while also offering video-friendly characteristics. Judged against this higher bar, the Samyang AF 50mm F1.4 FE II acquits itself well.

By any sensible measure, this is a fine lens. Optically it's a massive upgrade on its predecessor; in particular, it's much sharper at large apertures. Yet it's also smaller and noticeably lighter, while benefiting from useful additional controls and weather-sealed construction. Autofocus is dramatically improved too, being quicker and quieter, with minimal breathing.

Indeed, casting around for points of criticism feels a little churlish. It probably doesn't focus quite as rapidly as its rivals, and I wouldn't expect to get the same hit-rate of perfectly sharp shots when using continuous AF with erratically moving subjects. But this is easily forgiven for a lens that's less than half the price and practically half the weight of its Sony counterpart.

Where the previous optic was perhaps best seen as a good fit for users of 24MP A7 cameras on a budget, the Samyang AF 50mm F1.4 FE II is now entirely at home on the 60MP Alpha 7R IV, and indeed looks like it has more in reserve for higher resolution sensors. For Sony users looking for a fast standard prime, but who are put off by the size, weight and price of its rivals, it's an excellent choice.