Brand new deal: Save 300 Euro on the Sony A7II at Amazon Germany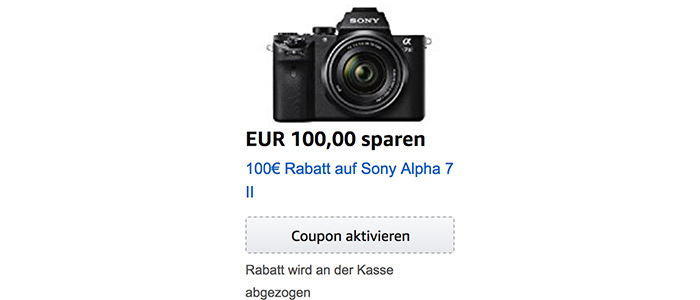 There are a brand new Sony deal in Europe that has been launched today:
Save 300 Euro on the Sony A7II sold by Amazon Germany. You get 100 Euro rebate instantly with the coupon rebate (Click on "Rabattgutschein"). And on top of that you get 200 Euro cashback from Sony (Amazon Germany special page, Wex UK, Sony Netherland, Amazon France.)
The same Coupon rebate action is running on many accessories and Samyang E-mount lenses again at Amazon Germany (Click here to see full list). For example you get a 60 Euro instant rebate on the 12mm f/2.0 APS-C E-mount lens.