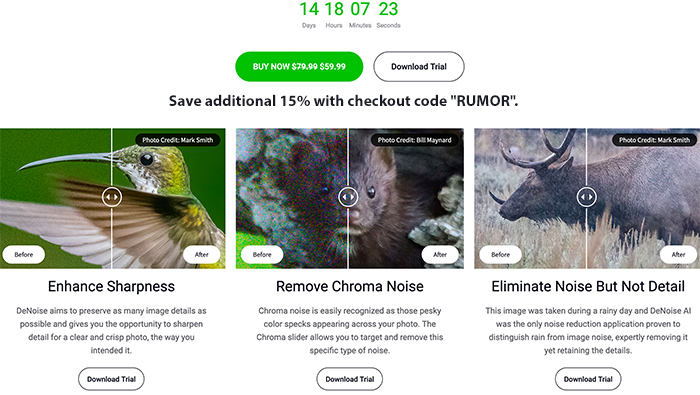 Topaz launched the new update for the Denoise AI app. There is a $20 discount + an additional 15% off if you use our checkout code "RUMOR". You can also download the trial only (Click here)
Press text:
We're excited to announce we've finalized the DeNoise AI update and it is now live. This update includes the new masking/selective adjustments feature where users will be able to selectively apply or remove noise reduction to certain areas in images. This feature can be found by clicking the "Masking" brush icon near the top of the screen beside the view options. This update also includes the "Low Light Mode" toggle option under the DeNoise AI model to treat severe or difficult-to-remove noise created in low lighting.

To promote our latest update, we're launching a special sale. DeNoise AI will be available for $59.99 (regularly $79.99) from today Thursday, May 28 through Friday, June 12.
UPDATE on a new 48h deal: You save 45% on the entire Franzis collection when using the checkout code "PROJECTS45"