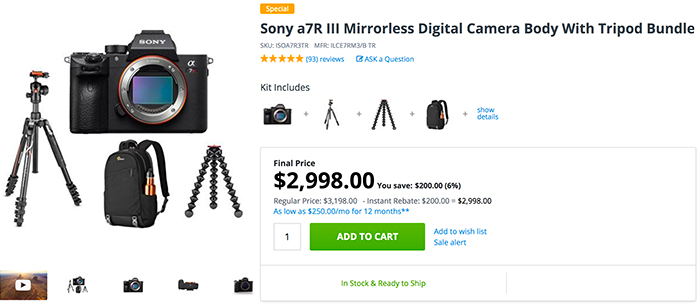 There is a new Sony A7rIII super bundle at Adorama and a couple of other bundles at Amazon.
Capture One:
55% off on the Capture One PRO for Sony + 3 Styles bundle for $128,70 (…151,5€) if you insert the code "AMBSAR" at checkout. Click here to get it: phaseone.onfastspring.com/capture-one-pro-sony-11-3-style-packs.
Zeiss deals:
Zeiss launched new Batis-Loxia-Touit lens rebates. And overview can be found on that BHphoto page.
Sony Deals:
The Sony A7rIII got the first $200 price drop ever at BHphoto, Amazon, Adorama, FocusCamera (with $199 free extras) and BuyDig (with free extras).
$300 off on the Sony A9 at BHphoto, Adorama, Amazon, BestBuy. FocusCamera.
$100 off on the 18-135mm lens at BHphoto, Adorama, Amazon, FocusCamera and BestBuy.
$300 off on the 24-70mm f/4.0 Zeiss lens at Amazon, Adorama, BHphoto.
In Stock:
Tokina 20mm FE at BHphoto and Adorama.
Tamron FE zoom is in Stock right now at FocusCamera.
New preorders:
Samyang (Rokinon) 24mm f/2.8 FE lens can be preordered now at BHphoto and Adorama.
Sony RX100VI at Adorama, BHphoto, Amazon, FocusCamera, BuyDig and BestBuy. In EU at Calumet Germany and Wex UK.
Sony VCT-SGR1 Shooting Grip at BHphoto, Adorama, Amazon, BuyDig and BestBuy.
At BH you can also preorder the new Loupedeck+ editing console.
Neewer 35mm f/1.2 APS-C E-mount manual focusing lens at Amazon US.
A7III accessories:
Meike grip at grip at Amazon US, Amazon CA, Amazon DE, Amazon UK.
Easycover is officially compatible with the A7III. You can buy it at Amazon, BHphoto, Adorama.