Hey, did Sony just confess they will use Exmor technology on future Alphas? :)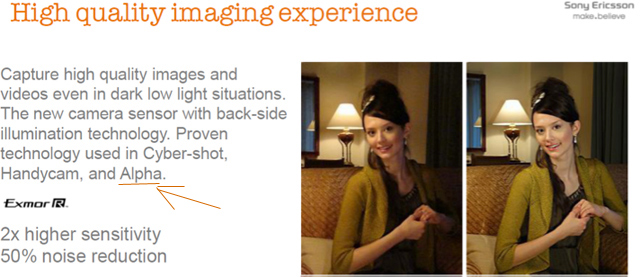 As you know the newest [shoplink 3003]NEX-3/5[/shoplink] and [shoplink 3617]A33/55[/shoplink] cameras do make use of the "Exmor" sensor. And a few weeks ago we told you the new A77 will feature the new "Exmor R" CMOS sensor with backlit technology. Funny, with the recent Sony Ericsson Xperia announcements Sony published the teaser I posted on top of the article that indirectly confirmed that future Alpha cameras could/will use the new Exmor backlit technology! We can't provide you the source because it has been sent to me anonymousely. Please drop me a message at sonyalpharumors@gmail.com if you find it at Sony Ericssons website!
List of all Sony compact cameras with Exmor R sensors at Amazon (Click here).
New Sony Xperia products at Amazon (Click here).
Read more about the Exmor R technology at Sony.net (Click here).