Just announced: New Gigapixel AI v5.6 with Major usability improvements and faster performance (and save $32 using our code)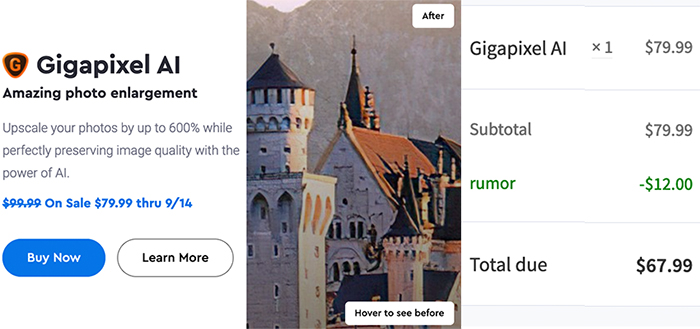 Topaz announced the new Gigapixel update. And til September 14 you save $32 if you use our code "RUMOR" at checkout (Click here). Don't forget you can also use the free trial if you want to test the results.
Gigapixel let's you upscale your photos by up to 600% while perfectly preserving image quality with the power of AI.
Gigapixel AI v5.6 at a glance
New Comparison View for convenient AI model comparison – Easily compare three different AI models or the same one using different settings simultaneously.
Improved color and tone processing for RAW and DNG files – When available, Gigapixel AI will apply a camera-specific color profile and provide improved overall color accuracy.
Overhauled AI model downloads – Improved overall experience when downloading optimized AI model files.
Performance and UI improvements – Numerous bug fixes and updated image previewing for an even better user experience
You can read the detailed new features list and detailed explanation on this Topaz Blog post.