New Adorama kit deal: Sony A7II with lens, Sony 64GB card and JobyGorillaPod for $998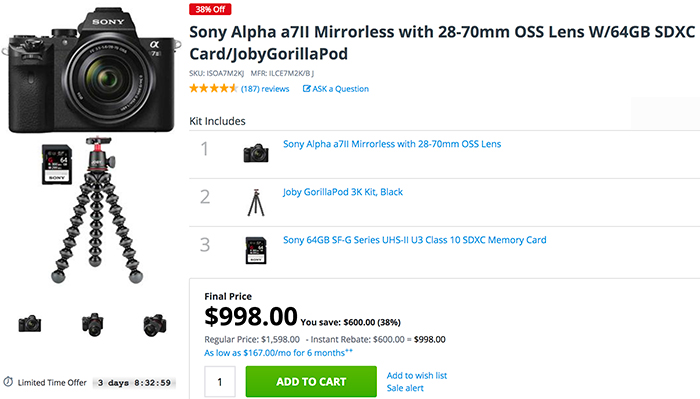 There seems to be a race between US stores to offer the best kit possible on the A7II with 28-70mm bundle. You now get the Super fast SF-G 64GB Sony card and a Gorillapod for free with the A7II kist at Adorama (click here). The card alone is worth $105 and the Gorillapod $55. On paper the A7II camera only sells for $450 only in this superkit!
All software deals:
1) You save 50% + additional 10% with our coupon code "AMBSAR" on the Capture One 2018 Styles Bundle (Click here). It includes 8 styles packs with a total of 112 styles.
2) Skylum launched the new Luminar 2018 with Sky enhancer tool. For a limited time you get this package with a $10 discount using our code "SAR" and extra Bonuses (see list below).
New Sigma E-mount lens preorders:
1) Sigma 40mm f/1.4 FE lens at Adorama, FocusCamera and BHphoto.
2) Sigma 56mm f/1.4 APS-C E lens at Adorama, FocusCamera and BHphoto.