Sony A33 preorder at Adorama (+ more US deals)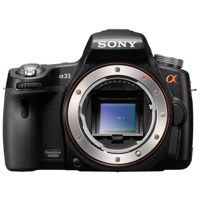 A quick list of new US deals:
1) UPDATED: The Sony A33 is available for preorder at Adorama (Click here)!
2) Again Adorama is taking preorders of the new 18-200mm E-mount lens (Click here)!
3) Time to get your NEX5 with both 16mm and 18-55mm lenses: BHphoto is offering the kit for $799 after instante rebates (Click here and than scroll down to see the deal)
4) After BHphoto also Adorama has the A55 available for preorder (Click here)!
5) Amazon says the NEX-VG10 Full HD Interchangeable Lens Camcorder (Click here)
will be back In stock on September 30.