All the rumors so far: Sony announcement, Sigma ART FE, Tamron E-mount, Tokina FE, Samyang and Laowa…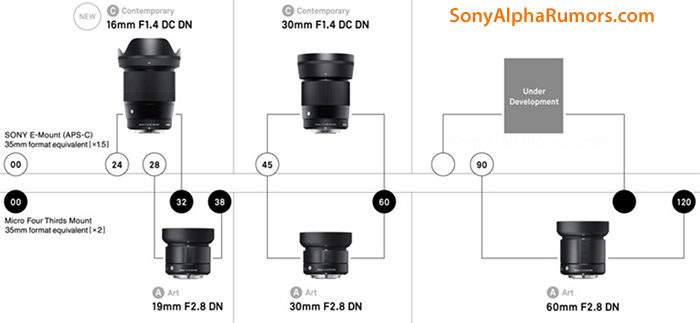 This Sigma roadmap shows the 50mm f/1.4 for APS-C E-mount
We posted many rumors the past days so let's make a short recap:
1) Sony
Trusted: From trusted sources we know Sony will announce new "entry-mid" level Alpha camera and a new Flash on February 26 at the WPPI in Las Vegas.
Unconfirmed: We definitely will NOT get a new A7sIII. But it's unconfirmed yet what that "entry-mid" level camera might be: A new A7III, A5300, A6500 or A77m3???

2) Sigma
Sigma should show their first ART FE lenses at the CP+ show. It's unclear if one or some of the lenses will hit the market right away or if this will be more of a roadmap/development announcement.
There might be also a new 50mm f/1.4 lens for APS-C E-mount cameras.

3) Tamron
Tamron will announce a new 28-75mm f/2.8 FE lens.

4) Venus Optics
the Laowa 9mm f/2.8 will for APS-C E-mount will be announced in late March for $499.

5) Tokina
Tokina might finally show their two wide and super wide FE lens primes

6) Samyang
Samyang is going to announce a new portrait FE lens as next. But announcement date is yet unconfirmed. Could be ay Cp+ or shortly after that.
Curious note: If the rumored A7III specs will turn out to be true I will have some great rumor for the A7sIII too from the very same source…fingers crossed his A7III specs are correct!