Sony announced shipment delays on the α7SIII, α7II, α6400, α6100, ZV-E10 due to the worldwide chip shortage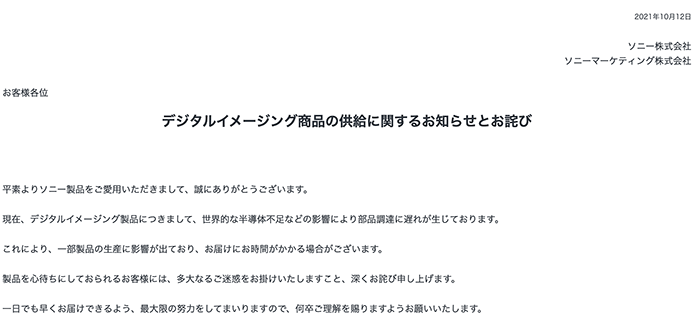 Sony Japan issued this statement:
Thank you for your continued patronage of Sony products.

Currently, with regard to digital imaging products, parts procurement is delayed due to the effects of global semiconductor shortages. This has affected the production of some products and may take some time to deliver. We sincerely apologize for any inconvenience caused to customers who are looking forward to the product.

We will do our utmost to deliver the product as soon as possible, and we appreciate your understanding.

[Main products that take time to deliver] Digital SLR cameras: α7S III / α7 II series / α6400 series / α6100 series / ZV-E10 series
Digital single-lens camera interchangeable lens: SEL20F18G / SEL50F18F / SEL50M28 / SELP18105 etc.
Professional camcorder: PXW-Z190
This week many other companies like Apple (Macrumors) and Audi (Automobilwoche) issues similar statements that prove this is a global issue. That's why may cameras  (like the Sony A1 for example) are still not in Stock :(
The global shortage is now expected due last til 2023 according to a new report from Engadget. Sony and TSMC might even join a partnership to build a new factory but this will start production in 2024 only.