Sony NEX-7 shipping on February 10th in USA? NEX-5n hotseller at Amazon.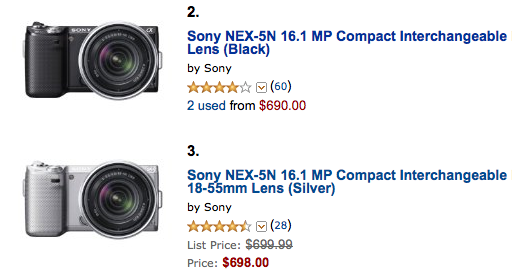 Sorry guys, I just noticed that the NEX-7 link I gave you yesterday had an error. Here is the correct link to the NEX-7 body preorder at Bhphoto: http://www.bhphotovideo.com/c/product/817846-REG/Sony_NEX_7_B_NEX_7_Digital_Camera_with.html. Meanwhile a SAR readers contacted me to say that they called Sonystore to preorder the NEX-7 body at Sonystore USA (Click here) . The answer was that it will ship on February 10th. This is probably right seeing that BH is accepting preorders.
And now that the NEX-5n is back in Stock at Amazon (Click here) it is again the most sold mirrorless camera (Click here to see the ranking). P.S.: That GE camera that is on top is certainly a mistake made by Amazon (not a mirrorless camera!).