(SR4) Sony to NOT announce any new product on the September 25 conference. Wait till October…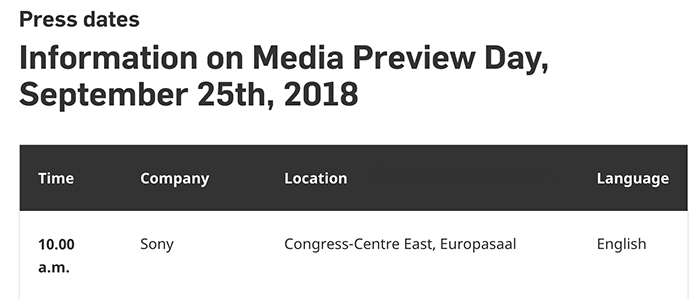 Next Tuesday at 10am Berlin time Sony will have a one hour press conference. The same trusted sources that correctly gave us the 24mm GM lens rumors confirmed that we shouldn't expect any new product announcement (camera or lens). Sony unofficially told journalists to wait til October to see some new stuff.
We know from trusted sources that Sony has three products ready for the launch: Sony A7III, Sony High End APS-C cameras and the 135mm FE GM. Now let's see what they will announce in October…
One more thing: On September 25 Panasonic-Leica-Sigma will announce their partnership on the SL-mount FF system camera. I suspect this one is going to be a more advanced proposition than the Canon EOS-R or Nikon Z7. Will be interesting to follow the event!