Surprise: Sony shows the new Full Frame with built-in vertical grip!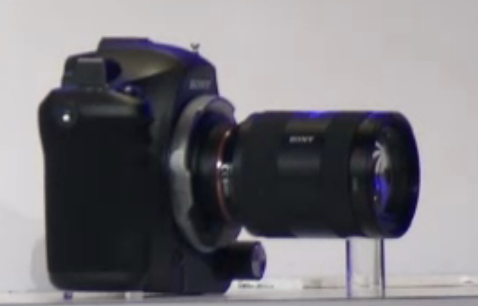 During the Sony presentation in LAS Vegas Sony underlined their commitment in the digital camera industry by showing shortly some prototype lenses and cameras. The screenshot I posted here on top looks to be a Full frame camera with built-in vertical grip. As SAR reader "Tonis" suggested the mount could be a sort of universal mount like the one used by the Sony F55. Just look at the mount the Zeiss 24-70mm A mount lens has an adapter which is likely an A to E-mount or FZ or PL mount adapter! That camera seems to be scheduled for a 2014 release. With new sensor tech (and likely 4k video recording).
Help from NAB show visitors: If some of you is in Las Vegas, can you send us please some pics of the prototype camera and lenses? Thanks a lot!
P.S.: I am happy Sony finally showed us that new Full Frame prototype. I may will help to shut down the voice of the few pessimistic people spamming on SAR comment system ;)