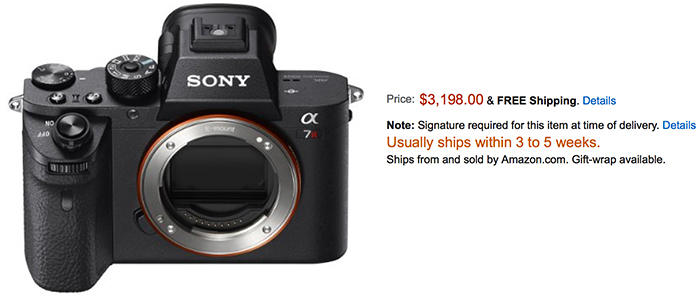 The A7rII will now ship within 3-5 weeks according to Amazon US (Click here). And here are brand new reviews and news:
Sony Artisan Colby Brown writes:
Bottom line, The a7R II is easily the best camera Sony has released to date and if I had to choose one Sony body to take with me on any given project…this would be it. Is it "better" than the Nikon D810 or the Canon 5DSR? Maybe. Maybe not. That depends on what your needs are as a photographer. The dynamic range, ISO, AF capabilities and size of the a7R II make it a better fit for me than Canon's current flagships. The inclusion of internal 4k video, silent shooting and impressive features such as Eye AF and the ability to use 3rd party lenses on occasion makes the a7R II a better fit for me than the D810. While your mileage may vary, I hope that I have included enough information, images and RAW files for you to ultimately come to your own conclusion on whether this is the right camera for you.
Sony A7R II vs. A7 II – Print Test by Admiringlight:
The A7R II is shaping up to be a fantastic camera, but the extra resolution may or may not be of use to you for printing, unless you print very large or really like to get up close to large prints. Where the A7R II's extra resolution really may come in handy is when cropping. A significant crop will still yield images with greater than 24 MP, and an APS-C crop will yield 18 MP images. This means that even heavily cropped images can be printed quite large and retain a very good look to the image, where the same crop on an A7 II may limit you to, say, a 12×18″ print before the print doesn't look quite as good. In any case, I think that most shooters, especially those who don't print larger than around 24 inches wide, should feel good knowing that in most circumstances, the difference in final output is fairly minimal at low ISO. For high ISO, well, that will take more investigation and more time with the camera. Look forward to my full A7R II review later this month.
German review at famous Photoscala site.
Sony A7R II First Shots: How does the high-res monster perform as the ISO climbs? (Imaging Resource).
Review: SLR Magic Anamorphot 2X & Rangefinder with the Sony a7R II (Newsshooter).
5 Takeaways from The Sony a7RII Webcast (Explora).
Poor dynamic range of A7R2 when doing long exposure (RAW files available for comparison) at SonyalphaForum.
is the Sony A7rII the most over-hyped, over-priced camera of the year? (CanonWatch).
Sony A7r II with Zeiss Batis 85mm f1.8 (SonyAlphaForum).
A7rii – SanDisk Extreme PRO 128GB UHS-I/U3 SDXC Not Compatible (???) (SonyAlphaForum).
A7rII preorder list:
In USA: at Amazon, BHphoto, Adorama, SonyStore US, FocusCamera, Uniquephoto.
In Europe at Sony DE, UK, FR, IT, ES, NL, BE, CH, AT, SE, FI, NO, PT. Wex UK.
In Asia at Digitalrev, CameraPro.
A7rII case:
Gariz leather case in Black (Click here), Camel (Click here), Orange (Click here), Brown (Click here) and Red (Click here). Also available on Amazon US (Click here).
Gariz Alcantara case in Black (Click here) and Red (Click here). Also available on Amazon US (Click here).
Lim's case in Black (Click here), Brown (Click here), Red (Click here), Yellow (Click here), Navy Blue (Click here) and Khaki (Click here). Also available on Amazon US (Click here).