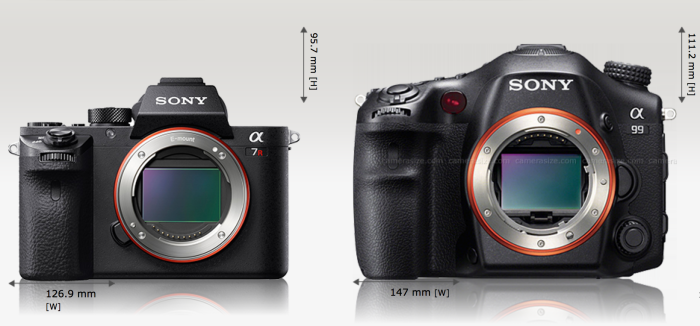 We really need a new A-mount camera and Jack Devant explained on SonyAlphaForum why the A7rII is "not there" with the A99:
"I shot with borrowed a7r2 whole day, ca 1400 frames. My main camera is a99 for last 2.5 years (i got two bodies), shooting them in average 70 000 shots per year. Now I used LA-EA3 and my a-mount lenses, 24-70 mm ZA, 70-200 G2 and 300 mm f2.8 G. All of my work was in-doors and stage photography. So, here are my quick observations.
Pros
IQ is absolutely superior to a99. Biggest difference in low light, for example at ISO 6400. Subjectively 2 stops at least.
new focusing system works pretty well. Very low rate of out-of focus shots, most are tack sharp.
despite of rumors, 300mm f2.8 G focuses fast and accurately
EV compensation control is great! Tactile and accessible. Much better that a99 button plus wheel combination.
Live highlight zebra is very useful in combination with fast EV compensation
Cons
Body size is ridiculously small. My fingers got heavy toll, operating such a small body with bigger lens. Not comfortable at all. Shutter button still in unnatural location.
back-plane buttons (review, function, etc) small, hard to find without looking to camera.
Battery life is super short. Almost unusably short. Thats because body is small and battery is sooo tiiinyy. Exactly the same battery what is found in my a5100.
Shutter lag. I shoot ballet and timing is essential. There is definitely something wrong with that. Missed 5x more jumps and fast moving positions etc what usually with my a99. I used front e-shuter mode.
Image review slow. Usually I switch auto-review off, because I have effects-on on the EVF. Still, during the shoot I tried to check photos, abt 50% times, camera was busy, writing files, not able to preview, This was really slowing my work down. Magnification is also painfully slow.
a7r2 + la-ea3 does not support my favourite 50 mm prime, Sigma 50 mm f1.4 Art.
new focus area modes like expand flexible spot not available, using a-mount lenses
can't move flexible AF spot around during the shoot
charger is slow and flimsy. Dual-battery charger with quick-charge capabilities with this camera is needed.
Conclusion
a7-family body is not there in usability and UX scale. Most of the technology is sorted out ina7r2, sensor is superior, but body too small. Waiting for a9 or a99II. If Sony builds mirror-less a99II, I would consider it."
–
A7rII store list:
In USA: at Amazon, BHphoto, Adorama, SonyStore US, FocusCamera, Uniquephoto.
In Europe at Amazon DE, Amazon UK, Wex UK and ParkCameras.
In Asia at Digitalrev, CameraPro.