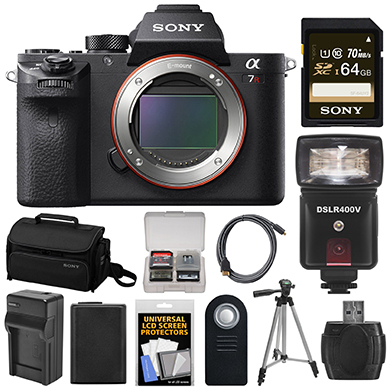 We have the very first Sony A7rII superkit deal: You get 13(!) free items along the A7rII sold by Cameta on eBay (read all the long free extra list here).
DigitalCameraWorld writes:
For a compact and lightweight camera capable of producing excellent high resolution images in a range of conditions, the A7R II is pretty impressive but by no means perfect. It's a good all-rounder despite it's high price tag, which is a considerable amount more than the A7 II. This is just as well, as in direct competition it could seriously affect the A7 II's future.
Sony a7R II Vs a7S Video Field Comparison by Lensrentals:
The Sony a7R II is seriously impressive. I still love the lean and light Sony a7S with an unreal low light capability, but it is clear that the Sony a7R II can go places the Sony a7S cannot. Shooting telephoto handheld and need it in 4k? You know what you'll go for.
Sony A7r II – Focus Testing w/ Canon EF 24-105 f/4 L IS Lens (SonyAlphaLab on Youtube).
Test – Sony A7R II : présentation et caractéristiques (Focus Numerique).