DxOmark tested the new Samsung NX100
camera and finally we can compare all compact mirrorless cameras. The Sony NEX sensor beats the rest of the mirrorless world with an over score of "69″. The NX100 has "62″ and the GF1 "53″ points. Where the NEX sensor really shines is with a 2 stop advantage in dynamic range and a much better noise handling.
Support our website and buy your NEX camera using those shop links. Thanks!
US: Amazon
, Adorama and BHphoto.
Europe: Pixmania (DE, BE, FR, AUT, UK, NL, PL, IT) or Amazon (DE
, UK
, FR
).
Via DxOmark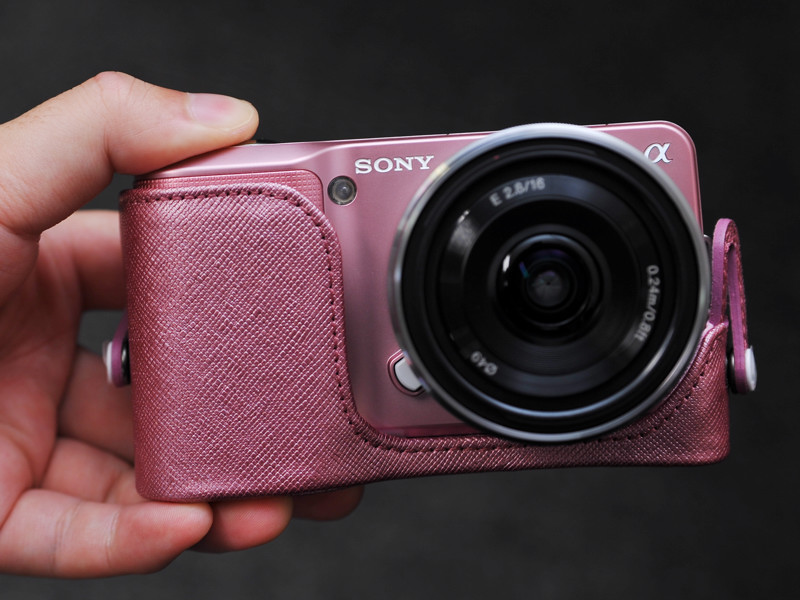 Sony had a new product announcement today. We "warned" you that Sony will announce a colored NEX but of course we were hoping to be wrong with our "prediction". No way

Sony Japan announced a all pink NEX-3 edition. The pink Panasonic GF1 was quite popular in Japan and I guess that's why they made a separate press release to announce it. By the way, look at the recent BCNranking which shows the weekly most sold system cameras in Japan. The Sony NEX-5 really scores an impressive result! Time for releasing new NEX lenses Sony!!!
UPDATE: There will be a new press release on October 14th with the new firmware upgrade for NEX cameras
Dpreview tested the new NEX firmware and you they started with a nice compliment to Sony: "It's apparent that the company has listened closely to what users and reviewers have been saying, and has corrected many of the camera's shortcomings."
Photographybay reviewed the Sony NEX-5 and became a big fan of the camera: "Aside from a few minor quibbles with regard to its controls and functionality, the Sony NEX-5 is an otherwise great mirrorless camera."
In US the NEX-5 is in Stock at (Click on shop names):
Amazon
, Adorama, BHphoto and eBay.
In Europe the NEX-5 is in Stock at (Click on shop names):
Amazon Germany
, Amazon UK
, Amazon France
or Pixmania (DE, BE, FR, AUT, UK, NL, PL, ES, IT)

A first A580 user hands-on has been posted at dpreview forum. And you can download the A560/A580 manual here: http://pdf.crse.com/manuals/4207863111.pdf. Another user posted some image samples of the new Zeiss 24mm f/2.0 lens on Flickr.
The Sony A580 is available for preorder in US at BHphoto and In Europe at Amazon Germany
The only store we found that has the A580 in Stock is in Greece at Photoagora

The Zeiss lens is available at Amazon
, Adorama and BHphoto. In Europe at Amazon DE
and Amazon FR
.