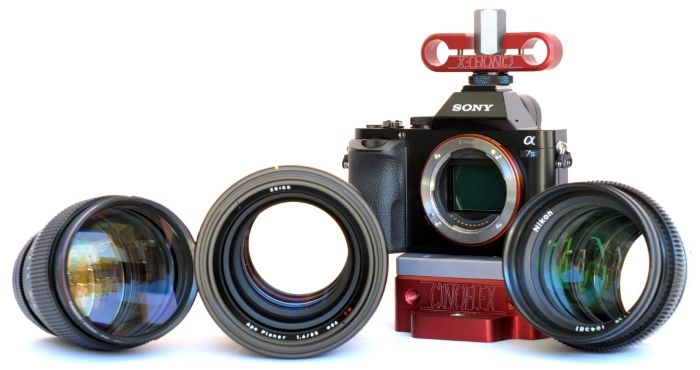 Note: The following is a review from Cinoflex (cinoflex.com  and Facebook) and T M Camera Solutions. And it has been first published on SAR. Images copyright from Cinoflex (please do not reause them without permission).
Cinoflex tested three 85mm lenses on the Sony A7s.
Cameras and Lenses used:
Sony A7s (here on Amazon, B&H, Adorama, eBay)
Cinoflex Camera
Zeiss Otus 85mm (here on Adorama, BHphoto, CameraPro.)
Nikkor AIS 85mm (here on eBay)
Canon FD 85mm (here on eBay)


Here is a first comparison showing the performance at full aperture (Click on image to enlarge).
Here is the reviewers text:
This lens really is as good or better than you have heard. The technical aspects live up to all the specifications and quality touted, but the real impressive element is the pure characteristic and personality.
The fall-off is truly magnificent. Just a beautiful immediacy to the range and fall-off when shooting at T1.4, sharp images in focus, and very gentle images out of focus.
The Otus 85mm T1.4 is built to a supreme standard, and you can feel that throughout each contour of the barrel, the elements, and the highly precise mechanics.
The most astonishingly, and obvious factor for the Otus vs. the Nikkor AIS and Canon FD "L" – 85mm – lenses, is the CLARITY. The Otus 85mm is so clear and precise. The glass really blooms under bad conditions. The reproduction is so accurate hat you be surprised, even by the Zeiss standards.
The Zeiss Otus 85mm T1.4 lens presents qualities and elements that combine some of the factors most desirable in today's cinematography culture, all in one tightly machined and perfectly presented package.
Look at the tests below. See for yourself!
Links to the three larger images:
Otus chart JPG (Click here)
Canon chart JPG (Click here)
Nikkor chart JPG (Click here)
Cineflex note:
Lenses are designed by different manufactures, for different uses, and different markets. To label one lens better than another is silly. Each lens displays characteristics in line with the intention of the manufacturer. At CINOFLEX we test lenses to create an analysis of character and personality into which each lens fits the creative design of a project. The 85mm OTUS is a great lens, period. But the Nikkor AIS, or CANON FD L lens is not inferior, the Panavision Primo lens is not better, they are simply different. When reading reviews that constantly profess the absolute "FACT" that one lens is better than the next, this could not be further from the truth. Keep in mind, most tests and endorsements are created by individuals who are not professional camera technicians, nor IATSE 600 ICG members, making their qualifications very suspect. Respect the tools of cinematography and use tests to find the lens that you think is best!
Any questions or comments please contact us @ INFO@CINOFLEX.COM
CINOFLEX and T M CAMERA SOLUTIONS in all publications and social media.